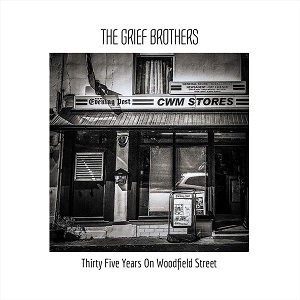 18 September 2019
The Grief Brothers put the long in player with their debut album Thirty Five Years On Woodfield Street. An album a longtime coming, with a staggering fourteen-tracks presented here which are oozing with acoustic, alternative folk wonderment. It may be a wait of twelve-years since Country Mile Records released their "Silo" single, the song originally performed by cover the Fabulous Scud Mountain Boys, but this album has appeared fully formed and sparkling with ideas. 
Opening with the upbeat track "A Lost Weekend In Bingoland", a sound which is anchored in a nostalgia that at times presents a certain charm to the proceedings. Also, however is a very subtle social commentary injected carefully into the mix. With songs such as "Outdoor Life", tackling subjects such as homelessness, and the all-too-real view of addiction which comes from living on the streets. In the same breath the love which appears in life is examined with the reconnection song "Marion Jones", which name-drops the album title as the place this lost love called home. 
It is folk-styled but not bound, similar to The Stones gritty acoustic moments of the seventies, it is realism reigned in with soft soundscapes. The crashing of waves knit the tracks together keeping them within the framework of a concept piece, telling a story of life in a seaside town, remembering and going back to youthful days. A country twang erupts from "Billy the Bastard", a take on the hardman about town, whether based on a real character or not it remains a tongue-in-cheek swerve at the bands capabilities. 
The most curious titled track "Low Voltage and Meat", holds qualities of Rock Steady beats with some guitar crunch creating an atmosphere, a standout showing again how the band can alter their sound for mood and delivery. Electricity counties with the Big Country sounding "The Losers Hall of Fame", before the acoustic drive re-enters the structure in "A Confessional". Fellow Welsh singer Jon Langford (The Waco Brothers) takes vocal duties on "Scurvy Dogs of Llansawel", a sea shanty with a Tom Waits appeal. 
In truth this is a great offering from a band who has waited patiently to get an album out. The years of gigging and struggling has paid off, and the mirroring of everyday life captured on Thirty Five Years On Woodfield Street is the exceptionally executed sound of working mans music, dug straight from the soul. Hopefully audiences will not have to wait long for a follow-up, for now the fourteen-tracks will make you smile and equally break your heart. 
1. A Lost Weekend in Bingoland   
2. Outdoor Life   
3. Marion Jones   
4. Bethany Lane   
5. From the Cardiff Arms to the Kings   
6. Billy the Bastard   
7. Low Voltage and Meat   
8. The Losers Hall of Fame   
9. A Confessional   
10. A Small Town Gone to Hell   
11. Scurvy Dogs of Llansawel (feat. Jon Langford)
12. Still Waiting for True Love's First Kiss   
13. The Emperor of Nowhere   
14. The Ynysmeudwy Boys
"A Small Town Gone To Hell" (Demo)