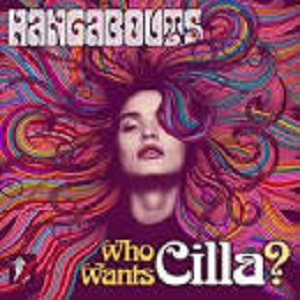 13 September 2019
Fifty-years after MC5 and The Stooges marked Detroit on the map as the mecca for garage-rock, it seems only fitting that The Hangabouts return with a reminder of how the city still produces bands of vivacious brilliance. The latest juggernaut release by The Hangabouts comes in the form of the double 'A' side digital single "Who Wants Cilla?"  b/w "Mrs. Greene". 
The three-piece act consisting of John Lowry, Gregory Addington, and Chip Saam broke through to audiences with 2017's acclaimed Kits & Cats & Saxon Wives. This latest release will galvanize that following, "Who Wants Cilla?" is equally intoxicating and addictive. A transcendent flow of guitar patterns which chime alongside bells, and of course those passionately executed vocals that sparkle with the depth of lyrical dexterity. 
This is an extension of the bands' prowess, a melodic adventure with a solo anchored somewhere in the sixties. Whereas the other side, "Mrs. Greene"  is an adventure which ignites on a crossroads where Americana and the Kinks meet. A sound which is at its core may seem out of place in Michigan but it works beautifully. The country inspired solo adds an extra flavor of joy to the toe-tapping energy that it erupts from. 
This musically animated release comes courtesy of an affiliation between two labels, Big Stir Records and Futureman. The double single is available for download from today (September 13) via the website, and it is certainly worth the admission fee. 

To Order:
Big Stir Records;
Website
More on The Hangabouts;
Facebook
Twitter
Bandcamp