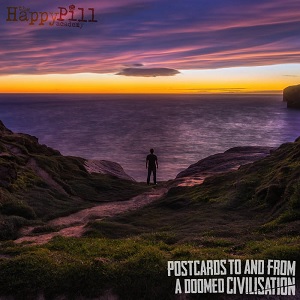 7 January 2022
The Happy Pill Academy is largely the solo project of lo-fi London musician Matthew Guy Ibbs, and their latest release Postcards to and from a Doomed Civilisation is arguably their most experimental yet. The record is a concept album about "a robot who goes on holiday," but it isn't strictly necessary for the listener to follow along with the story to enjoy it. The songs are pop gone slightly askew in a manner similar to the Cleaners from Venus or The Magnetic Fields, and the mood is alternatingly melancholy, humorous in a surrealistic way, and surprisingly touching.
There is a nervous, frenetic energy to songs like "George the Pilot" and "Violent Runtime," and although others such as the hallucinogenically-titled "Benjymouse versus the Soap Robot" are awash with druggy lethargy, there is an inescapable tension to everything here. A definite highlight that is impossible to ignore is their cover of Nirvana's "All Apologies." The keyboard-laden rendition stretches the unmistakable melody to its breaking point, and is far dreamier and minimalistic than the original.
Postcards is an album that forces the listener to come to it, rather than making it easy at all for the listener, but it's a fascinating and captivating twist on grunge and alt-rock that strips the genres back to their bare essentials and injects a heavy dose of psychedelic oddness for good measure.