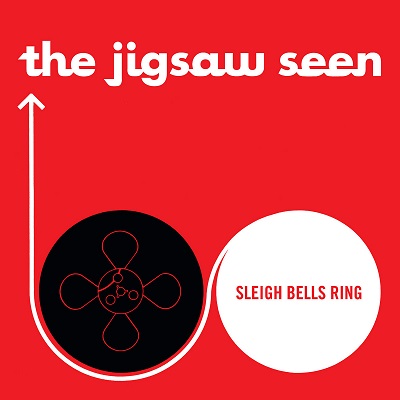 2 December 2020
The government, the establishment, and the system may let you down, but The Jigsaw Seen never will. Underrated but never indispensable, this is an outfit built to inspire, and equally entertain. For the season that it is, and that year that it was, a symbolic collection of music arrives. Like the now forbidden hug of humanity, a simplistic yet beautiful message is the theme of the Sleigh Bells Ring Ep. 
With five original songs, the overall sound of Sleigh Bells Ring pulls at your heart strings, whilst the nostalgic positivity breaks it. Not the first time out for this sublime, seasonal release, but after the year society has endured it is more than warranted. Culled from the 2011 Winterland album, and with two re-imagined acoustic versions, the Ep starts with "Pretend It's Christmas". On a wave of acoustics, the track flows majestically, building with lush vocals and finally erupting with chimes, drums and strings as it staggers to a close. 
With a more folky nuance, the instrumental "December" vaults with melody, twisting within a dramatic landscape. The acoustic version of "What About Christmas?" retains some of the same structure as the original album version, only with a further sweetness. Without the playful bass and drums, the more organic sound gives a greater depth. Another acoustic reinvention is "Candy Cane", though here it is just as intense, and rocks with the same vocal vigor. The closing, and mellow "Winterland's Gone" really projects that aforementioned nostalgic, glance-back that vibrates the aura of the heart. 
Of late, the members themselves are following different paths. Dennis Davison's own sublime solo album landed this year The Book Of Strongman. Jonathan Lea is working old-school and fruitful with music legends Vince Melouney, Shel Talmy and Clem Burke. The overall impact and promise of The Jigsaw Seen remains as positive, and creative as ever. 
Tracklist/ Credits;
1. Pretend It's Christmas (Davison/Lea)
2. December (Lea)
3. What About Christmas? (Acoustic Version) (Davison)
4. Candy Cane (Acoustic Version) (Davison/Lea)
5. Winterland's Gone (Davison)
For more info:
Bandcamp
Website
Facebook