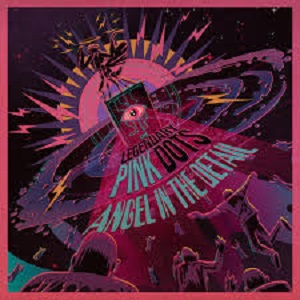 21 September 2019
The Legendary Pink Dots are an outfit such has certainly earned the first half of that title-'The Legendary'. Since their inception in London, circa 1980, the band has knocked out some thirty-nine albums. Beginning with the lo-fi and rare Only Dreaming in 1981, right up to this recent release Angel in the Detail. What is even more impressive is the quality of releases, no paint-by-numbers efforts created to fill space. In truth their sound is highly original, combining genres, experimenting with styles from jazz to psychedelic, and electronic to post punk. One thing remains steadfast throughout, and that is the main protagonist of The Legendary Pink Dots adventure, in multi-instrumentalist Edward Ka-Spel. 
On Angel in the Detail he is firing on all cylinders, inventing varied sounds with a slight dash of social commentary. To be more blunt, this band has lost none of their spark with the passing of time, and now a ten-track assault to the senses is beautifully captured on Angel in the Detail. Opening with a jolt on the industrial abstract "Happy Birthday Mr. President", devilishly venomous and dramatically executed. Rolling into the more positively pronounced "Double Double", a view from the terraces which has a nostalgic quality, realistically set against nineties tones. 
The brilliant "Junkyard" (included below) ignites with a slight "Voodoo Chile" opening, before an ambiance overwhelms the track with sampled voices and that unique vocal of Ka-Spel. Clocking-in a little shy of ten-minutes, "Itchycoo Shark/Isle Of Sighs" is a cinematic epic, translated to music. It is one of the standouts of the set, shifting through ethereal vocals and eighties synth tones projected into the 21st century. This structure continues with the urgent beat of "Neon Calculators"shades of Krautrock which vibrate throughout. The second time heavy epic "My Land/Parallels", is far more playful, bleeping and dramatic, which conjures up a more transcendent atmosphere towards its conclusion. At times the Pink Dots sound like Syd Barrett meets Faust, with an original flow of modern technology layered within the work. 
In reality Angel in the Detail is a quality release, and one thing is apparent, even though the Pink Dots are embarking on a 40th-anniversary tour (dates below), this album shows an outfit who ironically are not happy to simply hinge on past glories. The album as a whole is a band who are still hungry to make new music equally absorbing as earlier outings. No doubt it will not be long until album 40 hits the streets, for now audiences can lose themselves in the presented musical bliss of Angel In The Detail. 
Track List;
1. Happy Birthday Mr. President
2. Double Double
3. Junkyard
4. Itchycoo Shark/Isle Of Sighs
5. Neon Calculators
6. My Land/Parallels
7. Maid To Measure
8. Mantis
9. The Photographer
10. Red Flag
For more on The Legandary Pink Dots;
Bandcamp
40th Anniversary Tour Dates; 
Wednesday 10/2/2019 Kansas City, MO Riot Room
Thursday 10/3/2019 Minneapolis, MN 7th St. Entry
Friday 10/4/2019 Chicago, IL Beat Kitchen
Saturday 10/5/2019 Cleveland, OH Grog Shop
Sunday 10/6/2019 Detroit, MI El Club
Monday 10/7/2019 Toronto, ON Adelaide Hall
Tuesday 10/8/2019 Montreal, QC L'Esco
Thursday 10/10/2019 Allston, MA Great Scott
Friday 10/11/2019 Brooklyn, NY Knitting Factory
Saturday 10/12/2019 Philadelphia, PA Boot & Saddle
Sunday 10/13/2019 Baltimore, MD Metro Gallery
Tuesday 10/15/2019 Chapel Hill, NC Local 506
Wednesday 10/16/2019 Atlanta, GA Purgatory
Thursday 10/17/2019 New Orleans, LA Santos Bar
Friday 10/18/2019 Houston, TX Warehouse Live Studio
Saturday 10/19/2019 Dallas, TX Three Links
Sunday 10/20/2019 Austin, TX Barracuda
Tuesday 10/22/2019 Phoenix, AZ Rebel Lounge
Wednesday 10/23/2019 Los Angeles, CA The Echo
Thursday 10/24/2019 San Francisco, CA Bottom of the Hill
Friday 10/25/2019 Portland, OR Polaris Hall
Saturday 10/26/2019 Vancouver, BC Biltmore
Sunday 10/27/2019 Seattle, WA Sunset Tavern
Wednesday 10/30/2019 Salt Lake City, UT Urban Lounge
Thursday 10/31/2019 Denver, CO Ophelia's