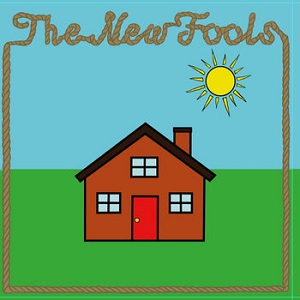 21 April 2020
Hailing from Cambridge in the United Kingdom, The New Fools are a band of veterans. Who waited in the wings of the music scene until the time felt right. Well in 2019 the time actually was and their debut landed, the dazzling  BrilLIaNt. Now a year later, their sophomore release Mershmellow provides a further insight into what The New Fools have to offer. The name of the outfit, a lift from Dylans' "Subterranean Homesick Blues", gives an insight into the influence and musical anchorage of The New Fools. But what comes through is enjoyment, as if a gathering of friends coming together to create music. Giving the sound of Mershmellow a relaxed, free-flowing edge. 
The album begins with "London '66". A scene setting, and atmospheric tale, delivered with an honest emotional tone. Both acoustic and melodic, it is an enjoyable glance back at a distant time. They switchgear nicely into the upbeat "The House of (Having) Fun", a track that sparkles with a good time groove. The horns add a pleasant dimension to the overall impact the band has. In the same breath the guitar rolling "Summer Rain" chops along with a Brit-pop aura. Again a theme of reflection with a mature reminiscence dominates the track. 

In truth, The New Fools have the formula nailed. They manage to switch styles, from the aforementioned rock based tracks into the Celtic-folk of "The Story of Me". This proves a musicianship and a yearning not to stick within the same perimeters of a genre, as they pull off each style with conviction. Though the construction base of "Model Village", is a turn not expected. A question of morals wrapped in the tale of the protagonist's hobby. That said, "Something About Jane" is a standout, a pop punk piece of singalong wonderment. 
The sizzling guitar riff of "John Candy Talking" takes off and the foot stomper gets the head nodding in rhythm, and a slick tribute
The Velvet Underground
–
"hey white boy what you doin up town?"
.An addictive track, with a wholesome theme, before the final "I Got On A Train", a closer that mirrors the nostalgia of the opener. As sophomore releases go this is pretty well sculpted, and enjoyable. The downside of the length just makes you ache for more. Let's hope there is new music from this well honed band in the near future. 
Tracklist:    
1.London '66    
2.The House of (Having) Fun    
3.Summer Rain   
4.The Story of Me    
5.Model Village    
6.Something About Jane 
7.John Candy Talking 
8.I Got On a Train