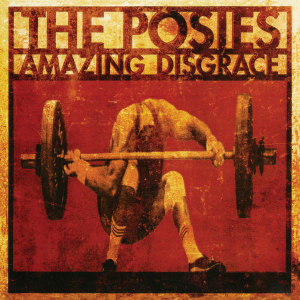 25 November 2018
I've been hovering around this release for the past month or so, letting it settle around me as I try to discern what I want to write about this release. Specifically, what I want to say about the angry, depressing, and sometimes heartbreaking turns of phrase that Ken Stringfellow and Jon Auer lob into the sonic mix. Many songs explode in shimmering skeins of fire as they light up my brain, energizing me into dance around the house mode as I tap my feet in time to these great tunes. I suppose this is not the album people will point to when they talk about the band's greatest songs, and that would be a shame since some of their best songs reside here. Witness the power behind the splendid "Daily Mutilation", one of my all time favorite tunes by these guys. It chronicles a fight between Stringfellow and band member Mike Musburger that led to Musburger leaving the band. "Ontario" is Stringfellow's paen to escaping from a relationship that has gone south, in this case, it was his marriage to Kim Warnick. It is surprisingly upbeat and pretty, which could describe most of the songs here. "Throwaway" kicks off in fine Crazy Horse fashion before Jon Auer's sweet voice chimes in. It's about coming to terms with yourself and your shortcomings. There is a pop psych haze wrapped around this song that works very well.
"Please Return It" describes the fragmentation of the partnership between Auer and Stringfellow, which ultimately led to their breakup after the fourth album came out. "Hate Song" is also somewhat bleak, as Auer laments the disintegration of his friendship with Stringfellow. This song also features guest turns from Robin Zander on backing vocals and Rick Nielsen on guitar. You can hear Zander's vocals much more prominently on the bonus mix of this tune. Stringfellow's poignant "Precious Moments" is a lovely example of chamber pop, bittersweet as he discusses how short life is and how we must embrace what we have before it's too late. "Everybody is a Fucking Liar" is full of vitriol and calls out all the hypocrites. "World" is a somber tune, all about being a musician on the road and missing your loved ones. "Grant Hart" is Ken's tribute to Grant Hart of Husker Du, a band that was a huge influence on him. It has all the energy of Zen Arcade era songs. "Song #1" is heartbreaking and rends the heart, as Ken describes Jon Auer's descent into heavy pot use and the dissolution of both his marriage and their friendship. The melody reminds me in part of mid-period XTC, and it's one heck of a sleeper tune. It will sneak up on you and definitely catch you up in its drama. "¿Will You Ever Ease Your Mind?" is stunningly gorgeous with a definite Hollies vibe and Auer's penchant for superb harmonies and melody. Up there among my favorites on this record. Simply wonderful.
I'm not going to waste much space discussing the bonus tunes. They will be welcome to all fans of the group, and I am simply glad to have access to them. The wonderful "Sad To Be Aware" is a firm favorite, and it has a strong Big Star overlay, which should be no surprise to anyone who follows the group. This song should not have been relegated to a bonus track, it is strong enough to demand inclusion on the main record, but sadly, it was not. So it's great to see it here on this reissue. Before I go, I should say that this is a double CD and double vinyl release with extensive liner notes and all tracks remastered from the original master tapes. An extremely worthwhile release that ranks up there with the band's more notable work, and one that should be supported by all fans. Excellent all around!
Support the band and this album over at Pledgemusic.