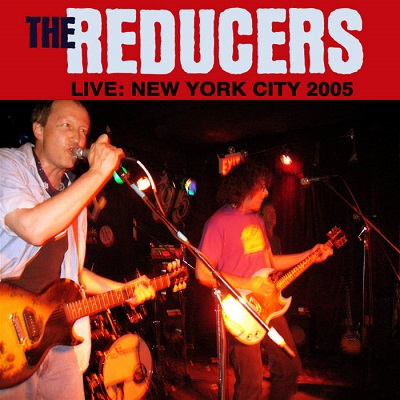 9 March 2021
"I think it's the best live recording I've heard of us." – Hugh Birdsall 
The Reducers were the neutron star of post-punk. A band who attracted legions of fans and lit a fuse of influence, embracing a cult following rather than commercial success. The four-piece blistered energetically for three decades until the tragic loss of bassist Steve Kaika in 2012. Though through it all, they remained constantly committed to the backlash to become the "Next Big Thing!" Nevertheless, the legend of The Reducers will vibrate for eternity, and the honest garage rock they created and stylishly executed will remain a vital part of music long after we have all left this plane of existence. 
With that in mind, and setting aside their nine studio albums, something new by the band is always welcome. Enter Live New York City 2005, the sound of a wild beast captured in it's natural habitat, the stage. This is a roaring, raw piece of sonic art. It is equally unsettling and uplifting, and from the first crunch of guitars it is addictive. Recorded at Arlene's Grocery on June 4, 2005, the band hit the ground thumping with a cover of The Boys classic "Turning Grey". The nod to the roots of punk kicks off the sixteen song set that does not stop to draw breath until after the closing "Hurt By Love". A second cover, this time by Chris Spedding, which bookends the album beautifully, and pays homage to the influence of the band. 

In between these covers, the band rip through a collage of new and old songs. The undeniable power of the stripped back twin guitar attack, pounding drums and rumbling bass are exceptionally recorded. As "Nothing Cool" from the '95
Shinola
album detonates, the listener is pulled straight into that sweaty crowd. The pulse of life the quartet had is inescapable, alluring, and tracks like "Fistfight at the Beach" remain tender and angry. "Out Of Step" from the first Reducers album still thrills with the high bassline and drum crack, the band sound fresh, and hungry. Whilst again the covers,
Teengenerate's
"I Don't Mind", and an out-stoned
Stones
cover of "Get Off Of My Cloud" adds something extra to the set. 
It is forty-seven minutes of bombastic pleasure. Worth noting this set, originally released on New Years Eve for fans, became a talking point in music circles, and now luckily it's gotten a digital release. For longtime fans it may swell the eyes with emotion, for newcomers it is a doorway into one of the greatest unsigned bands that once stalked venues across the US. 
Tracklist:
1.Turning Grey 
2.Nothing Cool 
3.Fistfight at the Beach 
4.Jackpot Fever 
5.Meltdown 
6.San Antone 
7.Out of Step 
8.Tokyo Bay 
9.I Don't MInd 
10.I Call That Living 
11.On the Road Again 
12.Let's Go 
13.Avoidance Factor 
14.Get Off of My Cloud
15.Bums I Used to Know 
16.Hurt by Love 
To Order And For More Info:
Bandcamp
Facebook