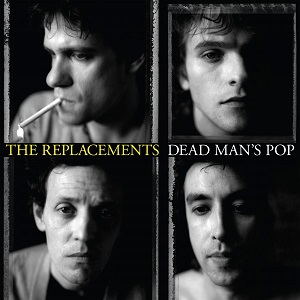 22 July 2019
Riffs summoned straight from the soul, a venomous angst spat out in unison, and an artistic integrity that is second to none, that is in a nutshell The Replacements. The Minnesota based outfit are the forefathers of alternative rock, coming to existence forty-years ago and there has never been a band quite like this since then.
They were the algorithm, and influence of alternative rock, stretching from the eighties to this very day. A new or retrospective release by The Replacements is usually something to get excited about, their latest, and first boxed set Dead Man's Pop is just that. But, this is no ordinary nostalgic release, this is a sixty-track set, fifty-eight of which have never seen daylight until now. That's not a selling point that is simply a fact. Spread across four compact discs, one vinyl record, a best-of-box cassette tape and a 12 × 12 hardcover book, this is set which is essential for a number of reasons mostly because it is simply a damn fine release.
Of course The Replacements were a band who strove for perfection, famously in February 1987 the band stole master tapes and unreleased recordings from ex-label Twin/Tone and destroyed them in the waters of the Mississippi River. This act of anarchy was to stop unauthorized release of the bands material for financial gain. Switch ahead two years later and as the band finished work on what was to be their most successful album, Don't Tell A Soul, they did the same thing. After finishing the recording of the long-player the reels were taken from Paisley Park studios and hidden from the world, until now.
The unhappiness the band had at the sound of Don't Tell A Soul has now been rectified and is the basis for Dead Mans Pop. This is a radical transformation, the vinyl, and first compact disc contain Don't Tell A Soul Redux The Replacements own vision for the album. Ths mix was done by original producer Matt Wallace, following the original layout for the album. Elements which had been tampered with during post-production, including drum tracks, tempos and vocal takes, all have now been rectified. Eagle-eyed fans will of course spot the altered track-sequence, again following the original, intended version.
This is just the start of the journey, the second compact disc is a selection of demos, alternate takes, including nine from the Bearsville sessions where the band originally started recording. These will give an insight into the raw-form of The Replacements, featuring "I'll Be You," "Rock 'N' Roll Ghost", "Achin' To Be" and "Darlin' One". Along with this there are four songs (five tracks) which were recorded with Tom Waits who gives his own unique edge to proceedings, I personally can't wait to hear these.
The remaining two discs contain a complete concert from a June 2, 1989 show at the University of Wisconsin-Milwaukee during the Don't Tell A Soul tour. All twenty-nine tracks are set to display the raw, rampage of The Replacements. That hungry, explosive act which became a legend rip through "Alex Chilton" through to "Born To Lose" and "Valentine", snippets (_Inconcerated Live_Ep) displays the band as the legendary, energetic and relentless machine they became known for.
On September 27th, there will be undoubtedly a new life breathed into the lungs of a classic, a vision finally accomplished after thirty-years, one that finds Paul Westerberg, Slim Dunlap, Tommy Stinson and Chris Mars finally giving the fans what they deserved.
Track Listing:
LP & Disc One: Don't Tell A Soul Redux
1. "Talent Show" (Matt Wallace Mix)
2. "I'll Be You" (Matt Wallace Mix)
3. "We'll Inherit The Earth" (Matt Wallace Mix)
4. "Achin' To Be" (Matt Wallace Mix)
5. "Darlin' One" (Matt Wallace Mix)
6. "Back to Back" (Matt Wallace Mix)
7. "I Won't" (Matt Wallace Mix)
8. "Asking Me Lies" (Matt Wallace Mix)
9. "They're Blind" (Matt Wallace Mix)
10. "Anywhere's Better Than Here" (Matt Wallace Mix)
11. "Rock 'N' Roll Ghost" (Matt Wallace Mix)
Disc Two: We Know The Night: Rare & Unreleased
1. "Portland" (Alternate Mix) [Bearsville Version]
2. "Achin' to Be" (Bearsville Version)*
3. "I'll Be You" (Bearsville Version)*
4. "Wake Up" (Alternate Mix) (Bearsville Version)
5. "We'll Inherit The Earth" (Bearsville Version)*
6. "Last Thing In The World"*
7. "They're Blind" (Bearsville Version)*
8. "Rock 'N' Roll Ghost" (Bearsville Version)*
9. "Darlin' One" (Bearsville Version)*
10. "Talent Show" (Demo Version)
11. "Dance On My Planet"
12. "We Know The Night" (Alternate Outtake)
13. "Ought To Get Love" (Alternate Mix)
14. "Gudbuy T'Jane" (Outtake)
15. "Lowdown Monkey Blues" (Feat. Tom Waits)*
16. "If Only You Were Lonely" (Feat. Tom Waits)*
17. "We Know The Night" (Rehearsal) [Feat. Tom Waits]*
18. "We Know The Night" (Full Band Version) [Feat. Tom Waits]*
19. "I Can Help" (Feat. Tom Waits)*
20. "Date To Church" (Matt Wallace Mix)
Disc Three: The Complete Inconcerated Live, Part 1
1. "Alex Chilton" (Live)*
2. "Talent Show" (Live)
3. "Back To Back" (Live)*
4. "I Don't Know" (Live)*
5. "The Ledge" (Live)*
6. "Waitress In The Sky" (Live)*
7. "Anywhere's Better Than Here" (Live)
8. "Nightclub Jitters" (Live)*
9. "Cruella De Ville" (Live)*
10. "Achin' To Be" (Live)*
11. "Asking Me Lies" (Live)*
12. "Bastards Of Young" (Live)*
13. "Answering Machine" (Live)
14. "Little Mascara" (Live)*
15. "I'll Be You" (Live)*
Disc Four: The Complete Inconcerated Live, Part 2
1. "Darlin' One" (Live)*
2. "I Will Dare" (Live)*
3. "Another Girl, Another Planet" (Live)
4. "I Won't" (Live)*
5. "Unsatisfied" (Live)*
6. "We'll Inherit The Earth" (Live)*
7. "Can't Hardly Wait" (Live)*
8. "Color Me Impressed" (Live)*
9. "Born to Lose" (Live)*
10. "Never Mind" (Live)*
11. "Here Comes A Regular" (Live)
12. "Valentine" (Live)*
13. "Left Of The Dial" (Live)*
14. "Black Diamond" (Live)*
*Previously Unreleased