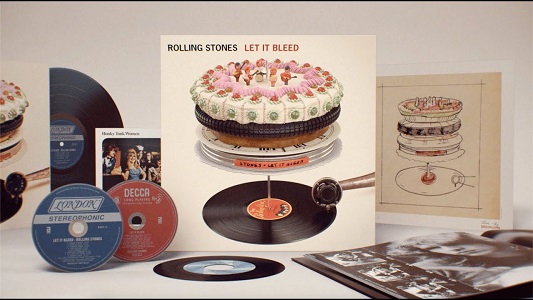 14 September 2019
This November via ABKCO sees the reissue of the Rolling Stones masterpiece Let It Bleed. A lavish box set released a month before the actual anniversary (December5), the album stands as one of the outfits finest moment. Their first post Brian Jones release, Mick Jagger and Keith Richards were hungry to make a musical statement of intent. The resulting Let It Bleed is a further submergence into their American influences, containing tracks which even today are still live favorites, "Gimme Shelter", "Midnight Rambler" and of course "You Can't Always Get What You Want". In truth there is not one inch of filler on this album, so a celebration of its half-century lifespan is justified. To give people a sense of the good points and bad points of this release, I'll first have a gripe before getting to the guts of the release followed by a further gripe (it'll be worth it). 
First off, this is a box set based on sound, not quantity, from the track list below one thing is apparent that is the lack of any bonus outtakes or any material which is known to exist via bootleg and official releases. Such as the legendary Keef vocal on "Gimme Shelter" or the Jagger vocal on "You Got The Silver" along with early versions of "Sister Morphine". Then again, also neglected are the tracks from April 1969 with Ry Cooder and Nicky Hopkins featuring "And I Was A Country Boy" and "The Boudoir Stomp". Although a lot of these takes surfaced on the Metamorphosis album along with Jamming With Edward, the album put together by the band whilst waiting for Keith to surface to the studio. A more broader perspective of Let It Bleed, and its creation would be to include these cuts. A single disc of these tracks would not have been a waste in any sense. In the same breath, it is easier to say that the album stands on its own, and is as close to the perfect rock album as you are likely to get, so, it was probably felt there was no need. 
First gripe over, now what fans actually get is that aforementioned sound. The late Velvet Underground guitarist Sterling Morrison once stated that the only true version of the Velvet Underground & Nico is the mono version, and that is true for Let It Bleed .This set contains newly remastered versions in both stereo and mono by Bob Ludwig at Gateway Mastering. These versions will be available as stand-alone releases, on CD, vinyl and digital. Also, the set features a reproduction of the 1969 number one 7" mono picture sleeve single "Honky Tonk Women"/"You Can't Always Get What You Want". The filler continues with three 12" x 12" hand-numbered replica-signed lithographs are also featured, printed on embossed archival paper, as well as a full colour 23" x 23" poster, with restored artwork from the Decca Records package of 1969. The traditional hardcover 80-page book with an essay by music writer David Fricke, also never-before-seen photos by the Stones' tour photographer Ethan Russell. 
All that aside my final gripe is the selection of albums the Stones have reissued in this deluxe format. Where understandably a Some Girls issue over a less popular album such as Emotional Rescue makes sense, why have the pre-68 albums been ignored? Point in hand Aftermath and Between The Buttons, both of which broke top-5 charts in the US and UK. As both were also released in different formats for both markets in mono and stereo, containing classics such as "Paint It Black", "Let's Spend The Night Together", "Under My Thumb" and "Ruby Tuesday". These albums cemented the Stones as a creative force where Brian Jones shined throughout. Surely then these albums deserve lavish editions such as was done with Sticky Fingers and Exile On Main St? 
Whatever the reasons may be, for the minute Let Is Bleed is about to be celebrated with a lavish set, sounding better than ever, and a reminder of its importance, along with influence half a century later. 
Track Listing
- Disc 1 -
1 Gimme Shelter
2 Love in Vain
3 Country Honk
4 Live with Me
5 Let It Bleed
- Disc 2 -
1 Midnight Rambler
2 You Got the Silver
3 Monkey Man
4 You Can't Always Get What You Want
- Disc 3 -
1 Gimme Shelter
2 Love in Vain
3 Country Honk
4 Live with Me
5 Let It Bleed
- Disc 4 -
1 Midnight Rambler
2 You Got the Silver
3 Monkey Man
4 You Can't Always Get What You Want
- Disc 5 -
1 Gimme Shelter
2 Love in Vain
3 Country Honk
4 Live with Me
5 Let It Bleed
6 Midnight Rambler
7 You Got the Silver
8 Monkey Man
9 You Can't Always Get What You Want
- Disc 6 -
1 Gimme Shelter
2 Love in Vain
3 Country Honk
4 Live with Me
5 Let It Bleed
6 Midnight Rambler
7 You Got the Silver
8 Monkey Man
9 You Can't Always Get What You Want
- Disc 7 -
1 7" Vinyl Single – (Mono)
2 Side A – Honky Tonk Women
3 Side B – You Can't Always Get What You Want