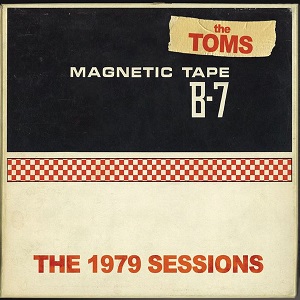 31 December 2019
Pure, melodic, blissful noise oozes from this released by The Toms. An essential slice of enjoyment hidden from audiences for four decades, until now. The Toms, the vehicle of songwriter and musician Tommy Marolda, hit the scene in 1979 with a blistering debut that heralded the new wave of power pop. Constructed over a space of three days, the self-titled release became very quickly a sought after slab of influence. The multi-instrumentalist however, did record fourteen-tracks over a September weekend in the same year, and that is what is presented on The 1979 Sessions. 

For newcomers to The Toms, the debut is always a good place to start, but this album is produced so well that it is something of an interesting introduction as well. With some wonderful cuts such as the jangling joy of "She Said Goodbye", pulled straight from the territory where
The Byrds
once flew. The eighties-cool sound of "That Could Change Tomorrow" which flows effortlessly with the right amount of chugging and nod to
The Beatles
in the same breath as
Big Star
. There are many standouts which tumble from the speaker system, "Angela Christmas" is one such number. Regardless of the subject matter every track retains a good-time vibe, with a loose feel but also raw around the edges.  
A personal favourite, "Talk Is Cheap" jumps into action following a chirpy guitar riff, whereas "Was it Good for You Too" has an urgent quality running through it, making it a foot stomping pleasure. There is some reaching into a zone of experimentation such as on "Dedicated", breaking from the structure of the other tracks slightly, before the set closes with "Standing in the Shadows". With acoustics caressing electric guitars, it has a stunning amount of depth for something that is in reality a demo. 
The 1979 Sessions
acts as the perfect companion to the debut by The Toms. A recommended release by yours truly for fans, and those curious to venture into the world of Tommy Marolda.
Tracklist 
1.Call The Surgeon (Part 2)    
2.She Said Goodbye    
3.That Could Change Tomorrow    
4.Til the End of the Day    
5.Guilty as a Killer Wave
6.She's So Lovely    
7.Love at First Sight    
8.Angela Christmas    
9.Dirty Water    
10.Talk is Cheap    
11.Was it Good for You Too    
12.Uptown 
13.Dedicated    
14.Standing in the Shadows
For more info; 
Bandcamp
Facebook
Website