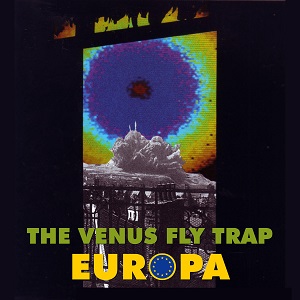 25 October 2019
The Halloween season has well and truly kicked off with a slice of bleak, goth-drenched brilliance courtesy of The Venus Fly Trap. In the same breath giving a subtle nod to the current upheaval in British politics with the dark, subversive "Europa". 
Originally released in 1990, on the Ep of the same name via French label Danceteria. "Europa" now gets a wider release on Halloween night, when its steps once again out of a coffin and into the public's attention through Glass Miniature. Truthfully the song has not aged, nor does it sound out-of-place in this modern time. 
The track launches with the whine of feedback before the stuttering guitar enters and the sound moves up a notch, leaning towards a pre-shoegaze format. Lead singer Alex Novak is in fine voice, in a Jim Morrison meets Johnny Lydon's English snarl scenario. A stagnating, clever injection of stops and starts creates that subversive drama floating in an atmosphere of explosive imagery. 
Making it more enjoyable is the added live cover of Joy Division's "Shadowplay" to the download. It is no doubt the track is hand built for the prowess of The Venus Flytrap containing the vigorous musical assault they are famed for. This is certainly a mood creator to unleash the spirits this year, in an act of reminding audiences the impact of great music never deteriorates. 
For More Info & To Pre-Order;
Bandcamp
Facebook
Website