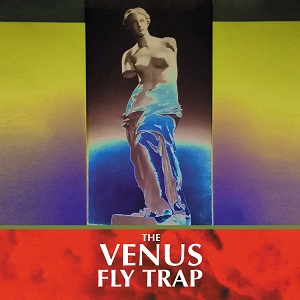 19 June 2019
This is a classy release, not just a reissue, but a reminder of the reactive sound of late-eighties post-punk. The Venus Fly Trap have their 1988 debut album Mars remastered through Glass Modern. The sound is expansive, and at times it has that fresh feeling of a new recording. Put that down to the revolutionary, eighties recording techniques or simply the wizardry of Martin Bowes when it came to re-tuning the master. Regardless, the sound created by Alex Novak and co. has never sounded so sonically appealing. No bonus tracks to weigh proceedings down, Mars appears just as it did on its original compact disc release. It is standing on its own two-feet here, though given an updated look on the artwork side.
When originally release 31-years ago, Mars cut deep into the musical ethos of the day. Offering a sound which reverberated the old-school ideals of The Stooges mixed with the updated, eighties sound of goth and The Sisters Of Mercy. Brief twinges of The Doors echoed in the vocal delivery of Novak, this was wholesome stuff and now it has revisited the musical, modernized world.
Opening with the blast of classic rock with "Shadows Whisper Mecca", a seventies-styled slice of proto-Punk richness. Lashed with infectious grooves and off the wall vocal gymnastics of Novak. Following with the guitar stutters of "(I Get) Flowers", an assaulting, enjoyable raid of the senses. Whereas "Morphine" is steeped in a Sisters Of Mercy styled grip with the undoubtable vocal hue of the late Jim Morrison projected front and center. That theme spills right into "Ruby Red", a gothic sounding "LA Woman", intense and at times overwhelming in delivery.
The seven-minute plus epic "Desolation Railway" is the sprawling standout on Mars, the dynamics of The Venus Fly Trap really come into their own on this midpoint. But the momentum of the album never subsides, the variety of sound balance between power-pop "Catalyst", and a dramatic, dark tension "Violins & Violence".
Though there is more from Novak and The Venus Fly Trap, only last year a new collection of music entitled Icon appeared. For a place to start, however, Mars should be your first destination.
Track List:
1.Shadows Whisper Mecca 04:16
2.(I Get) Flowers 05:21
3.Morphine 04:36
4.Ruby Red 04:22
5.Desolation Railway 07:23
6.Hazy Future 04:42
7.Catalyst 04:00
8.How The Mighty 04:23
9.Violins & Violence 05:17
10.Up There 05:13
Credits:
Alex Novak: vocals
Tony Booker: guitar
Dave Freak: percussion & vocals
Chris Evans: bass
John Novak: guitar
Tim Perkins: violin, guitar & keyboard
on tracks 2 & 6
For more on The Venus Fly Trap;
Bandcamp
Website
Facebook