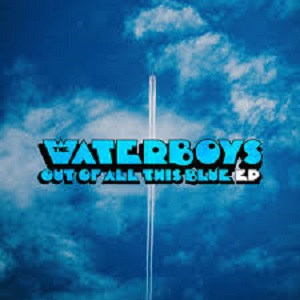 7 September 2019
This year has become a watershed in the career of The Waterboys, it seems as out of nowhere they blasted back with one of the pivotal albums of this year in Where The Action Is . Indeed, it can be easily viewed as their most realized work since Mike Scott's eighties offerings with Fishermans Blues and This Is The Sea. The importance of Where The Action Is can easily be explained as it balances both nostalgia ("London Mick"), and delves into real-life emotions ("Out Of All This Blue"). With a backdrop of pure, energetic style that reminds listeners of the impact pure rock music has on our lives ("Where The Action Is").
At the very core of Rock 'N Roll music is that rush of adrenaline when it hits you, a feeling that existed fully since Elvis Presley first recorded and released "That's All Right" in 1954. The Waterboys have faithfully reminded audiences of the freedom and celebration that music is, which is why Where The Action Is is of such importance. Also, however, is that emotive power to execute feelings from the heart, and that power forms the basis for the "Out Of All This Blue" Ep. 
The compassionate standout number from Where The Action Is deserves a pedestal such as an EP release, but what is more important is the original 2015 demo of "Out Of All This Blue" which is included. The track, written for a friend who had been immersed in a dark place, the tones of reassurance, and even love surfaces more prominently on the demo, in an intense and raw telling. Already the track has become an instant classic, and this release will further cement that. 
In the days leading up to the North American tour (dates below), the Ep also includes a 21st century version of "The Whole Of The Moon" (featuring Blaine Harrison from Mystery Jets). Recorded live on the Chris Evans Virgin Radio Breakfast Show , this gives audiences a taste of what to expect, along with new material in the ode to The Clash's Mick Jones, the playful, and without doubt seventies anchored "London Mick*. 
The band of Brother Paul (keys), Ralph (drums), Aongus (bass), Jess and Zeenie (vocals), Steve Wickham (electric fiddle and guitar) and Mike Scott (vocals, guitar and piano), are obviously having the time of their lives in this creative resurgence. As the Waterboys adventures continue, undoubtedly audiences can expect further releases and further brilliance. 
Out Of All The Blue EP tracklist:
1.Out Of All This Blue 
2. Out Of All This Blue (Original demo)
3. London Mick (Chris Evans Virgin Radio Session – Live)
4. Whole Of The Moon (Chris Evans Virgin Radio Session – Live featuring Blaine Harrison)
To Stream Or Download;
Website
Follow The Waterboys adventures;
Facebook
Twitter
Instagram
North American Tour; 
Sept 17 – Count Basie Theatre | Red Bank, NJ
Sept 18 – The Wilbur| Boston, MA
Sept 20 – Calvin Theatre | Northampton, MA
Sept 21 – World Café Live | Philadelphia, PA
Sept 22 – Lincoln Theatre | Washington, DC
Sept 23 – Webster Hall | New York, NY
Sept 25 – Danforth Music Hall | Toronto, ON
Sept 26 – Majestic Theatre | Detroit, MI
Sept 28 – Varsity Theater | Minneapolis, MN
Sept 29 – Old Town School Of Folk Music | Chicago, IL
Oct 01 – Gothic Theatre | Englewood, CO
Oct 02 – The Depot | Salt Lake City, UT
Oct 06 – Commodore Ballroom | Vancouver, BC
Oct 07 – Wonder Ballroom | Portland, OR
Oct 08 – The Neptune | Seattle, WA
Oct 12 – The Observatory North Park | San Diego, CA
Oct 11 – The Fillmore | San Francisco, CA
Oct 13 – The Observatory | Santa Ana, CA
Oct 15 – Belasco Theater | Los Angeles, CA