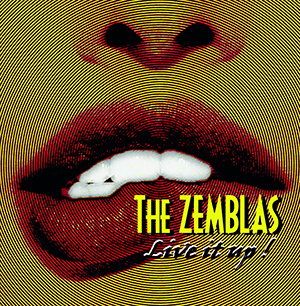 8 March 2020
The power of brevity is certainly not lost on The Zemblas on Live It Up: 12 songs, each 2 to 3 minutes long, 32 minutes in total. But the Nice, France, band has much more to offer than simply short songs.
Foremost on their Jim Diamond-produced second album, there is vocalist Didier Bozzi, whose wonderfully husky, often exciting vocals recall both Mitch Ryder and fellow Frenchman Philippe Marcade from the legendary Senders. Bozzi brings the confidence of a seasoned soul man and much fun to songs like the title track and "I'm Gonna Move." His pleading vocals on the stomping "Don't Wanna Suffer" wrings every bit of raw garage soul out of the song. Bozzi also shines on the sweet, easy-going "I Say Yeah."
Guitarists Frédéric Martinez and Michel Nègre from Les Playboys are also key weapons for the Zemblas, whose name comes from a French comics character. They rip it up on the previously mentioned "Don't Wanna Suffer" and "Sixty Minutes."
A variety of flavors is yet another plus for the Zemblas. An '80s pop influence is in play throughout the album and especially on songs like "The Sweetest Thing" and ultra-groovy "Join the Gang." A brief but thrilling experience.