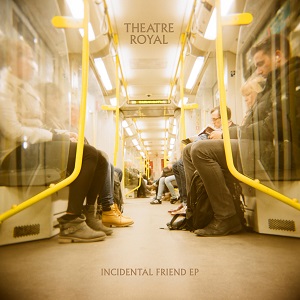 24 October 2019
The sound of medway music  a hybrid of rock and roll, sixties rock and punk. Made popular by artist/singer Billy Childish, is not in any sense a musical form which is becoming extinct. The opposite in fact, as British stalwart Theatre Royal return with news of a new Ep. This release is a musical whistle wetter of what's to come next year in their fifth long-player. 
This new Ep Incidental Friend is the first new material since 2018's double single "All Fall Forward" / "Better Say Goodbye". Earlier this year I had the pleasure of reviewing their compilation, Singles 2010-18, and at the time, I said that what comes next should be interesting and I have to say these four-tracks are exactly that. But the Ep itself is not become available fully until November 22, instead, and this is clever, each track will be released one a week for the coming month with the last track landing the same day as the release. The schedule works out as follows; 1st November – "Incidental Friend", 8th November – "Turn From Sleep", 15th November – "Done is Done" and finally 22nd November – "September Comes" with the full release.  
So the sound at what audiences can expect, is in a nutshell, a more mature collection. It as if Singles 2010-18 was the band closing one chapter of their career, and Incidental Friend is the first page in their coming adventures. The release kicks off with the reflective title track, an acoustic number housed within an organic framework. The tapping of drums, the soulful vocals, and harmonica moving things along. This is the coming-of-age dramatic sound of this band, injecting an atmosphere of melancholy hope. "Turn From Sleep" picks up the pace with the melodic guitar tumbling above an urgent beat. Before Theatre Royal submerge themselves within acoustic bliss again. A fusion of Bob Dylan relocated to the British countryside soaking up nineties rock. The transcendent chorus is a nice touch before the closing "September Comes". Perhaps my favourite of the set, and one which holds all those pieces that distinguish the band from contemporaries. In all Incidental Friend is solid work, enjoyable and a doorway to enter the world of Theatre Royal.
Tracklist; 
1.Icidental Friend
2.Turn From Sleep 
3.Done Is Done 
4.September Comes 
For More On Theatre Royal;
Bandcamp
Facebook
Website