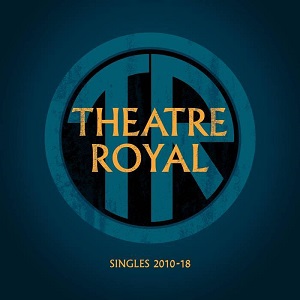 18 June 2019
The UK's Theatre Royal, present a stylish, powerhouse-compilation of mouthwatering goodness in the 22-track overview of the bands last eight years. Singles 2010-18 displays the workhorse effort this band has put in, their sound steeped in realism and honesty, driven from the depths of the Medway towns. There is a forging of styles present in the quartets output, balancing between American east and west coast influences, think Big Star meets Bowie with the incendiary influence of The Smiths.
For newcomers to Theatre Royal, it's best to buckle in as the 22 tracks are an addictive outing from the first guitar crank of "Cold Charity". The urgency and hunger of this band is extraordinary, although they may have inspiration from the past their direction is definitely moving forward. "Locked Together On The Lines"(Included below) is a superb example of the musical dynamic of this band. Yes, its angst ridden with, at times an explosion of vibrant imagery, but where bands like The Libertines fall down with inconsistent offerings, Theatre Royal nail it perfectly.
Sublime vocalist Oliver, has that voice which is sweetly-emotive, not diverging into the dreary, but keeping it hopeful. "The Story Of My Life" is a song of friendship and aspirations, that jangling, wall of guitars, courtesy of Robert, keeps an edge within the drama of the affair. Very little frills or even synthesizer flourishes, only two guitars, drums, bass and a vocalist. Simplicity at its best, which lends to the spirited melodies throughout.
The track list however, is a killer, relentlessly good and refreshingly unpretentious. They are what they appear to be on the surface, a garage band that transcends the usual mundane chart efforts. Indeed, songs such as "Port Bou", "Is That For You?" are hook laden slices of magnificence. Almost all songs fall within the digestible four-minute mark, sharp, short shocks of atmospheric indie-fired splendor.
The longest track is a mere four-minutes thirty, the barrage of "Death On The River", which staggers between sparkling pop and passionate distortion. It is, in reality a signpost, to the direction in which the band are heading. As compilations go Singles 2010-18 is bursting with energy and Theatre Royal are really something to invest head space into.
Track List:
1.Cold Charity 02:25
2.Locked together on the lines 03:01
3.If You Could Stand Up (you'd walk away) 04:05
4.The Story of My Life 03:15
5.Is that for you? 02:47
6.Doubt 02:57
7.All I Need 01:46
8.Spit and a Dream 03:28
9.What Was That Sound? (single version) 03:19
10.Port Bou 04:11
11.Three Ships (Disappear Here) 03:02
12.A Hundred Thousand Tears 02:55
13.Here It Comes 04:02
14.You Sleep 02:43
15.French Riviera 1988 03:23
16.Tune Out 02:55
17.Caught Me At The Wrong Line 03:38
18.All Fall Forward 03:25
19.Better Say Goodbye 02:31
20.Death On The River 04:39
21.Katherine's Sleeping 03:51
22.Standing in the Land 04:03
For More On Theatre Royal;
Bandcamp
Facebook
Website