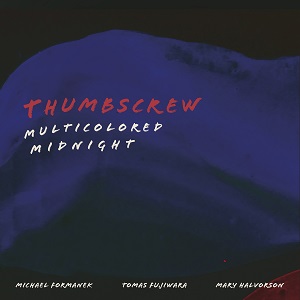 28 September 2022
Consistency, thy name is Thumbscrew. Seriously, the NYC trio, consisting of three of the most creative artists in jazz, hits its tenth anniversary with nary a misstep in all of that decade. If anything, Multicolored Midnight, the band's seventh album, pulls the remarkable telepathic chemistry of bassist Michael Formanek, drummer Tomas Fujiwara and guitarist Mary Halvorson even closer and tighter together, even as they expand their sound.
Fujiwara is a master of playing around the beat as much as on it, while Halvorson's picking manages the seemingly contradictory feat of bringing outsider picking into a (slightly) more constructed framework. Meanwhile, Formanek plays equally comfortably holding down the root or carrying the riffs, leading by example. On Halvorson's title track, the guitarist pens an almost catchy melody, but allows her pals to fracture the rhythm, even as her notes seem to melt off the fretboard. Fujiwara's vibraphone and Formanek's arco bass take "Future Reruns and Nostalgia" into a mysterious realm of smoke and mirrors, a land Halvorson is happy to explore. Sticking with his mallet work, the drummer matches the guitarist's odd harmonies on her appropriately titled "Swirling Lives," with Formanek keeping the eddies grounded.
On Formanek's "Shit Changes," Fujiwara's vibes set the atmospheric tone, while Formanek handles the main melody and Halvorson decorates the latticework with tremolo picking and generous delay – that is, until the guitarist joins her cohort in driving the tune home. Meanwhile, on his "Fidgety," the bassist disrupts his partners' work with glitchy electronics and yet more whimsy. As his colleagues barely suppress smiles, Formanek engages a politically minded sense of humor on the lively and snarky "I'm a Senator!" – a jubilant vibe Halvorson matches with her own "Survival Fetish."
Given the three members' shared love of both unconstrained improvisation and strong-spined tunes, it's no wonder Thumbscrew closes the album with the circular reasoning of the Fujiwara-penned track "Brutality and Beauty." Having played together in each other's ensembles outside of this collaboration, Formanek, Fujiwara and Halvorson have reached the point where they can literally create anything together, and a decade's honing of that skill makes Multicolored Midnight the trio's best album so far.