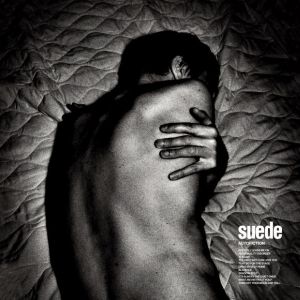 27 September 2022
The British lads (Well, middle-aged chaps now) of Suede – Oh, pardon me, America – The London Suede – are back in a big way, kicking out the jams in brash and thrilling punk-spirited rock fashion on their ninth album.
A revitalized Brett Anderson, Mat Osman, Simon Gilbert, Richard Oakes, and Neil Codling aren't exactly reinventing the wheel here, but they're on fire and rocking 'n' rolling down the road.
Sure, there are still the expected poignant laments, melancholic frisson, and sweeping orchestration/synths, but much of the LP is a pumped-up spin of tuneful, gritty, and glam rock anthems.
Oakes' guitar power is searingly storming, and a seemingly aging-backwards Anderson, guided by his acerbic, highly personal lyrics, is brimming with bruised-romance drama, with his exultant to aching, soaring exhortations resounding as boldly as the instrumentation.