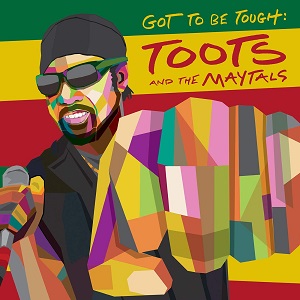 2 July 2020
The right song, from the right artist, at the right time. Toots Hibbert is an unstoppable force in music for nearly six decades. With his band Toots And The Maytals, the man has released some 23 albums, winning acclaim and even a Grammy Award along the way for True Love in 2004. The past decade however, Toots And The Maytals have surfaced on numerous occasions particularly on the live circuit. This year they return with a new song, and news of a new album, the first since 2010's Flip and Twist.
On August 28th, Toots And The Maytals will release Got To Be Tough. The title track is the snippet already on offer. A song of strength, positivity and even sensibility in a time when the world is shrouded in fear and animosity. This is exactly what Toots Hibbert does best -pulls together the pride of his Jamican roots and sends a message of hope from hopelessness. The lyrics themselves, poignant as ever: 
Just in case you never know
Or maybe you forget,
Your days are getting shorter,
Our youths are getting slaughtered. 
The full album Got To Be Tough is highly anticipated, apart from the single, news has also filtered down the album will include a cover of "Three Little Birds", a collaboration with the son of the songs creator Ziggy Marley. Finally, an upbeat, rocksteady vibration to look forward to. 

For more info: 
Website
Facebook
Twitter