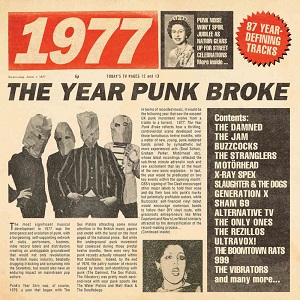 24 June 2019
Due for release this coming Friday, June 28th, Cherry Red Records again open the vaults and unleash some musical delights. This time the focus is on Punk, and the year 1977 which saw the explosion of a movement. The set, aptly titled 1977:The Year Punk Broke does exactly what it intends to do. Showcasing some of the best acts to rise that year over a staggering 87 tracks. Acting as a time capsule moment for those who were there, and a view into a time when music caused an upheaval against an abysmal backdrop.
This is a refreshing, intense, nostalgic and essential release. Including songs by acts such as The Damned, X-Ray Spex, Sham 69, The Jam. Not only does the set highlight the best from the UK scene, it also explores other countries, New York's Johnny Thunders And The Heartbreakers make an appearance. So to does Ireland's Boomtown Rats and Radiators From Space. With some surprises thrown in such as Lemmy's first incarnation of Motorhead performing their self-titled tune. Fact being the band were as much Punk as they were Metal when they started out.
1977:The Year Punk Broke also highlights bands which you may not be familiar with, and through simple bad luck never reached the pinnacle of some of those aforementioned. There are some staggering highlights however, it does show bands which in this modern era may have been forgotten. Such as Eddie And The Hotrods, Slaughter And The Dogs, Cock Spanner (from the Oi! sector) and Billy Idol's first act Generation x. These bands sit nicely next to the Radio Stars and the early incarnation of Ultravox which started even in 1977 showing a switch in style that would become new wave. Though, I do feel the inclusion of Raped with their self titled abomination may be a step too far taste wise, but it is at the end of the set and by then you are all punked out.
The beauty of the set is again the running order, igniting with Buzzcocks and moving with the force of an atomic bomb across the three discs, very little space is wasted. And it is good to see the bombastic Alberto Y Lost Trios Paranoias along with Graham Parker get a well deserved mention. As with other releases of this nature from Cherry Red, there comes the info of a booklet with 15,000 words on the music enclosed. Lovingly put together by curator David Wells, which delves into each band, a labor of love that is the reason to purchase this set alone. In truth punk was a rebellion against the system, sets such as this remind audiences of the power the music had. It fought back against corrupt political systems, racism, and of course poverty. All strands of which are infested in this set. Not every track is a winner, those which are not have an interesting quality that makes them somewhat appealing. For those with a brief or acute interest in Punk this is necessary pleasure.
Complete Track List;
CD 1
01. Buzzcocks – Boredom
02. The Stranglers – London Lady
03. The Gorillas – Gatecrasher
04. The Damned – Neat Neat Neat
05. Deaf School – Capaldi's Café
06. The Vibrators – Bad Time
07. The Boys – I Don't Care
08. The Jam – Away From The Numbers
09. The Heartbreakers – Born To Lose
10. Eater – Thinkin' Of The U.S.A.
11. The Outsiders – On The Edge
12. The Users – Sick Of You
13. Chartreuse – You Really Got Me
14. The Rings – I Wanna Be Free
15. Models – Man Of The Year
16. The Only Ones – Peter And The Pets
17. Motorhead – Motorhead
18. Celia And The Mutations – MonyMony
19. Cock Sparrer – Runnin' Riot
20. The Count Bishops – I Need You
21. Blitzkrieg Bop – Let's Go
22. The Killjoys – Naive
23. Johnny Moped – Incendiary Device
24. The Rezillos – I Wanna Be Your Man
25. Radio Stars – No Russians In Russia
26. The Nosebleeds – Fascist Pigs
27. The Exile – Jubilee '77
Time – 83:10
CD 2
01. The Boomtown Rats – Lookin' After No.1
02. Wreckless Eric – Whole Wide World
03. The Snivelling Shits – I Can't Come
04. Slaughter & The Dogs – Where Have All The Boot Boys Gone
05. The Valves – For Adolfs Only
06. Doctors Of Madness – Bulletin
07. Generation X – Day By Day
08. The Vacants – Television Viewer
09. Alberto Y Lost Trios Paranoias – Kill
10. Puncture – You Can't Rock And Roll (In A Council Flat)
11. Radiators From Space – Enemies
12. The Drones – Just Want To Be Myself (7" Version)
13. Sham 69 – Red London
14. P.V.C.2 – Deranged Demented And Free
15. X-Ray Spex – Oh Bondage Up Yours!
16. Tom Robinson Band – 2-4-6-8 Motorway
17. 999 – Nasty, Nasty
18. Ultravox! – Rockwrok
19. The Depressions – Family Planning
20. Zeros – Radio Fun
21. Tyla Gang – Pool Hall Punks
22. The Stukas – Klean Living Kids
23. The Lurkers – Freak Show
24. Jerks – Hold My Hand
25. The Unwanted – Bleak Outlook
26. Some Chicken – Blood On The Wall
27. Menace – Insane Society
28. The Features – Drab City
29. Spider – Back To The Wall
30. New Hearts – Just Another Teenage Anthem
31. The Pleasers – (You Keep On Tellin' Me) Lies
Time – 83:07
CD 3
01. John Cooper Clarke – Innocents
02. Alternative TV – How Much Longer
03. The Wasps – She Made Magic
04. Neon Hearts – Regulations
05. Graham Parker & The Rumour – New York Shuffle
06. The Doll – Trash
07. Maniacs – Ain't No Legend
08. Satan's Rats – In My Love For You
09. Larry Wallis – Police Car
10. Eddie & The Hot Rods – Quit This Town
11. The Now – Development Corporations
12. Chelsea – High Rise Living
13. Art Attacks – Arabs In 'Arrods
14. Trash – Priorities
15. The Method – Dynamo
16. Public Zone – Naive
17. Left Hand Drive – Jailbait
18. Swell Maps – Ripped And Torn
19. Acme Sewage Co. – I Can See You
20. The Rats – First Mistake
21. Brainiac Five – Natty Punko
22. The Cortinas – Defiant Pose
23. The Carpettes – Help I'm Trapped
24. Neo – Tell Me The Truth (Live At The Vortex)
25. Raped – Raped
26. Fruit Eating Bears – Flies
27. Hobbies Of Today – Ru12
28. Drug Squad – Left Right And Centre
29. Norman And The Hooligans – I'm A Punk
Time – 82:54
For all things Cherry Red Records;
Facebook
Website