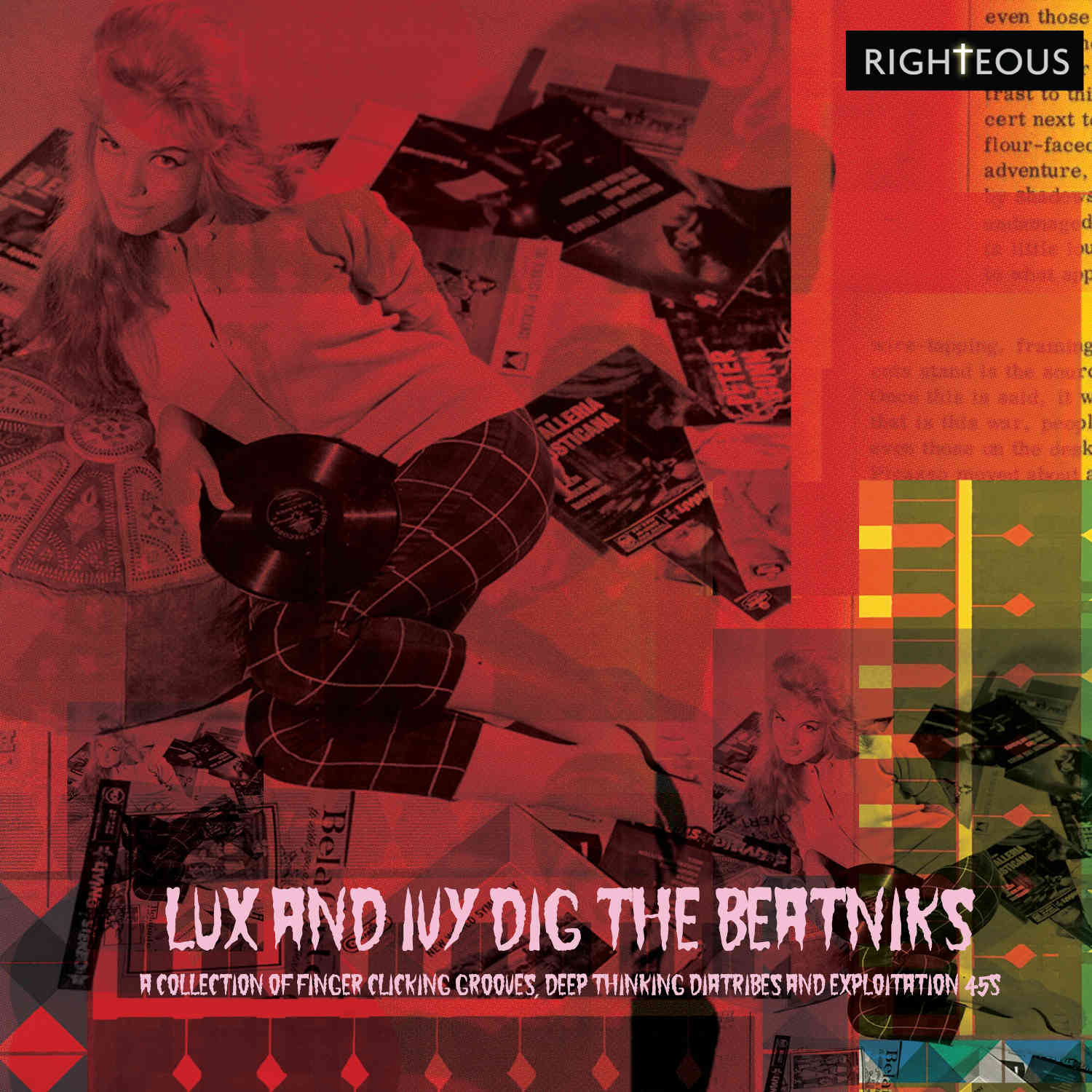 19 August 2019
The retro horror, and B-movie artistic explosion of The Cramps is celebrated with what can only be described as delving into their own personal tastes. The heart and soul of the war machine of rockabilly, the late Lux Interior and his incendiary partner Poison Ivy, created a sound which was raw, stripped back and wholly unique. Putting a label on their influence has always been a task as they were punk, but not punk bound, they were blues based without following the typical framework of the genre. 
It comes as no surprise that this set has finally landed, courtesy of Cherry Red Records comes an eye opening collection of 45 tracks of different beatnik singles of rhythm poet geniuses. Lux And Ivy Dig The Beatniks is exactly that, a collection of novelty singles which go some way to explain the savage-style of The Cramps. Unexpected, as a collection featuring like Dick Dale, Link Wray or The Trashmen might be more on the money when it comes to the root of this band. Nonetheless, this is what they apparently 'dug'. A collection more suited to perhaps Tom Waits, a style he immersed himself within but it is still a worthwhile adventure into the goatee wearing generation. 
Billed as "A Collection of Finger Lickin' Grooves, Deep Thinkin' Diatribes and Exploitation 45s", it is exactly that. Dug straight from The Cramps own collection of rare singles, whilst like so many others who become curious to this release, you may not be familiar with much or any of it. That is irrelevant to the enjoyment that is on offer, after all if Lux and Ivy listened then there must be something very worthwhile within the grooves.
Set against the backdrop of Greenwich Village more than the grime of CBGB's, it is a collection far removed from Cramps classics such as Psychedelic Jungle or Songs The Lord Taught Us. The lyrical genius of the genre mixed with the satirical themes are something that would have soaked into the creativity of Lux, however, it is simply interesting not essential. With revered beat poets Kenneth Patchen, Lawrence Ferlinghetti and Dizzy Gillespie set to jazz, along with The Jokers, MOJO magazine's Dave Henderson, is the maestro behind the operation who also provides sleevenotes. It will not, or could not make up for The Cramps on full throttle on Smell Of Female, which is everything that typifies this once great and sadly missed outfit.
Disc One: 
1.Kookie Kookie (Lend Me Your Comb) – Edd 'kookie' Byrnes   
2.Teenage Beatnik – Louis Nye   
3.Like Rumpelstiltskin – Don Morrow   
4.A Beatnik Story – The Expressos   
5.Like I Love You – Edd 'kookie' Byrnes   
6.But I Was Cool – Oscar Brown Jr   
7.Wombat Twist – Glenn And Christy   
8.Flipsville – Stormy Gayle   
9.Bohemian Girl – Russ Haddock Trio   
10.Oop-Pop-A-Da – Dizzy Gillespie And His Orchestra   
11.What Is A Fisterris? – The Joker   
12.The Murder Of Two Men By A Young Kid Wearing Lemon Colored Gloves – Kenneth Patchen With The Chamber   
13.Consider Me – Langston Hughes With Charles Mingus And The Horace Parlan Quintet   
14.Theme From The Pad – Parts 2 And 3 – Sylvester Statuslack Hup   
15.You Goofed – Slim Gaillard   
16.Twisted – Lambert, Hendricks And Ross   
17.Spooky-Doo – Cacique & His Tribe (Featuring Enos Feenos)   
18.Hot Rod Rock – Edd Byrnes   
19.Meet The Bongo Man – Johnny O   
20.William Butler Yeats On The Third Avenue E – Lawrence Ferlinghetti   
21.Do You Promise – The Honkers   
22.Cool Yule – Tony Rodelle Larson
Disc Two:
1.Laffin' Beatnik – Johnny Beeman   
2.Dog – Bob Dorough   
3.Beatnik – Bob Mersey   
4.Mamblues – Cal Tjader's Modern Mambo Quintet   
5.Manhattan Fable – Babs Gonzales   
6.Swing Low Sweet Cadillac (Part 1) – Aggie Dukes   
7.Don't Tempt Me – Al & Ina Harris   
8.No Pictures, Please – Rod Mckuen   
9.Reaching Into In – Ken Nordine   
10.Yip Roc Heresy – Slim Gaillard And His Middle Europeans   
11.But Baby – Steve Allen   
12.Professor Bop – Three Bips And A Bop   
13.Like Young – Anne Henry   
14.The Goatee's Gotta Go – Dick Summer   
15.Tempest In A Teapot – Beverly Garland   
16.The Beat Generation – Bob Mcfadden   
17.The Gasser – Roy Eldridge   
18.Pimples And Braces – Spike Jones And His City Slickers   
19.Kookie's Mad Pad – Edd 'kookie' Byrnes   
20.Beatnik's Wish – Patsy Raye And The Beatniks   
21.Lonesome Boy Blues – Kenneth Patchen With Allyn Ferguson And The Chamber Jazz Sextet   
22.Blah – Sidney And The Chimps   
23.Square Dance For Round Cats – Edd 'kookie' Byrnes