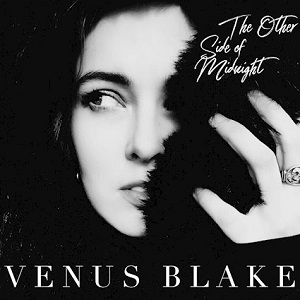 25 February 2022
Venus Blake is a singer-songwriter from London who is currently living in Italy, and she released her debut album, The Other Side of Midnight late last year. Influenced by singer-songwriter pianists of the 70s like Elton John and Billy Joel, and those of the 90s including Tori Amos and Fiona Apple, Venus Blake resurrects a tradition which had been largely dormant for the last decade. Although faithful to some tenets of the genre, she nevertheless modernizes the melodies just enough and adds dramatic touches of the theatrical to keep it constantly feeling fresh and new.
Although many songs like the opener "Hungry Ghost" are sparse in their instrumentation, with only voice and piano, Blake creates a gothic wall of sound by building up layer upon layer of her vocals, like a heavy storm of swirling souls. It also means that when more instruments are added, like the inclusion of drums on the fantastic break up song "Here Comes the Flood," the effect is never taken for granted. The album seems to have been with a great deal of care, and Blake carefully guides the listener on an emotional journey which finally reaches its crescendo with the ecstatic release of the album's triumphant closer "Escape."
The Other Side of Midnight is a timeless work which could have been released in any number of eras and still have held a great depth of artistic significance.