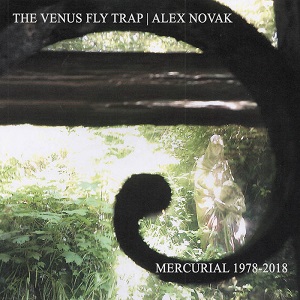 22 March 2020
This is a wholesome reminder of the reactive sound of late-eighties post-punk legend Alex Novak and his incendiary The Venus Fly Trap. The VFT cut deep into the musical ethos of the day by offering a sound which reverberated the old-school ideals of The Stooges mixed with the updated, eighties sound of goth and The Sisters Of Mercy. Brief twinges of The Doors echoes in the vocal delivery of Novak, making Mercurial 1978-2018 such a vital release, and now these rarities have been thrown respectively into this modernized world. Indeed, it is that timeless unique sound which is at the fore here and is the basis of the enjoyment. 
With twenty-tracks spread across the release, one of the standout features is the chronological order which for the first half highlights a unique style. Whilst the second part delves deeper, not following the same start-to-finish path. Instead it dips into lesser known projects across the years and decades. Mercurial 1978-2018 kicks off with the 1988 blistering "Morphine", and the seven-minute epic "Desolation Railway". This sprawling standout from the Mars album reiterates the importance of the VFT. 

"Rocket
USA
" originally preceded the
Totem
album, and although a cover of the
Suicide
number, Venus Fly Trap reinterpreted the track, sculpting it into the vision of Alex Novak. Thirty-years on the song remains a rampant, blistering assault. Opening with the clatter of electric drums, the ambient sounds of voices and a countdown, "Rocket
USA
" is a cinematic piece, opening up into a rockabilly framework and sax courtesy of
The Jazz Butcher Pat Fish
. With Novak's vocals spat forth with a sarcastic disdain, the sound of the Fly Traps here is similar to a meeting of The Cramps and Bauhaus. "Rocket
USA
" is a prime example of the fabled punk-new wave collision, set in the existence of sci-fi bleakness amidst futuristic fears.
Following on with the guitar cranking "Moscow Menagerie", and the blistering abstract "Pulp Sister", the depth of the release is the gift that keeps giving. With the advances into the nineties, the
VFT
continue on their journey, not veering too far from their initial ideals. This is showcased in "Metropolis". Bringing things right up to date with "Vitesse", taken from 2018's wondrous
Icon
. 
The closing tracks feature output from the original
Glass Records
outfit
Religious Overdose
. Following on with
The Tempest
tracks, featuring future
Spiritualised
guitarist
Mark Refoy
and Alex Novak. And of course the short lived pre-
VFT
Attrition
with one track represented. Before shifting into the nineties output from Alex with
The Den
and
Spore
remembered with a track each. This is some excellent music to sink your adventurous teeth into, and of course opening the door to those lesser known projects by Alex such as
Religious Overdose
. 
Tracklist;
1.Morphine (1988)
2.Desolation Railway (1988)
3.Rocket
USA
(1989)    
4.Europa (1990)
5.Achilles Heel (1991)
6.Moscow Menagerie (1995)
7.Pulp Sister (1997)
8.Metropolis (2004)
9.Human Fly (2011)
10.Vitesse (2018)
11.Isaws / Standen (1979)
12.Religious Overdose / Control Addicts (1980)
13.Religious Overdose / I Said Go (1981)
14.Religious Overdose / In This Century (1982)
15.The Tempest / Lady Left This (1983)
16.The Tempest / Montezuma (1984)
17.Attrition / Feel The Backlash (1985)
18.Nova State Conspiracy / Definitive Item (1993)
19.The Den / Vox Kunst (1994)
20.Spore / You Remind Me… (1995)
Due For Release May 8.
For More Info: 
Bandcamp
Facebook