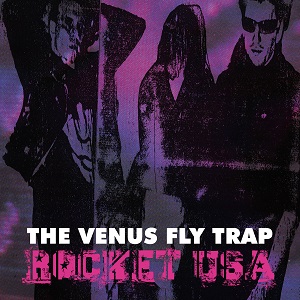 1 October 2019
The legendary British alternative-electro outfit Venus Fly Trap have of late received a long overdue resurgence. Following last year's triumphant eight long-player Icon, this year has already seen the reissue of their classic debut  Mars, and the release of the Morphine Ep. With all that in mind it is only fitting that the celebration of another classic takes center stage. Thirty-years after the release of the Venus Fly Trap's "Rocket USA", the single has come back into circulation again, with a digital release that showcases the ethereal brilliance of the song. 
"Rocket USA" originally preceded the Totem album, although a cover of the Suicide number, Venus Fly Trap reinterpreted the track, sculpting it into the vision of frontman Alex Novak. Thirty-years on the song remains a rampant, blistering assault. Opening with the clatter of electric drums, the ambient sounds of voices and a countdown, "Rocket USA" is a cinematic piece, opening up into a rockabilly framework and sax courtesy of The Jazz Butcher Pat Fish. With Novak's vocals spat forth with a sarcastic disdain, the sound of the Fly Traps here is similar to a meeting of The Cramps and Bauhaus. "Rocket USA" is a prime example of the fabled punk-new wave collision, set in the existence of sci-fi bleakness amidst futuristic fears.
Indeed, it is that timeless unique sound provided in part by producer Kevin Haskins of the aforementioned Bauhaus, which lends a further edge to the work. With two further classics "Cloud 9" and "Opium War", originally included on the French released 12 inch and compact disc single. This is sublime musical goodness, continuing the slew of quality, even nostalgically from Venus Fly Trap. 
Released October 4. 
To Pre-Order;
Bandcamp
Facebook