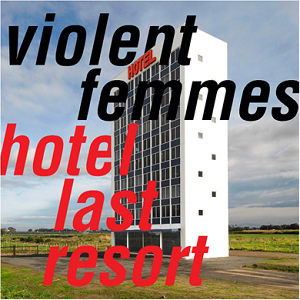 10 July 2019
_"I don't change the chords anymore.
The chords change by themselves"._
Those opening lines give the first peek into the upcoming tenth album by Violent Femmes. The luscious single "Hotel Last Resort" features Television legend Tom Verlaine, echoing a nostalgic grace of original punk to the track. An acoustic driven number, pumping with life and intensity which would comfortably form the backdrop to a Quentin Tarantino movie.
Whilst a stunning piece of work as a single, it is still only a small piece of a much larger picture. This prime example of American cult tumbles out over thirteen-tracks of splendor. Hotel Last Resort due out July 26th, may only hold some elements of old-school Violent Femmes, luckily though it is an album with character and strength.
Opening with the almost rap-vocal of "Another Chorus", a slice into the monotony of modern music and the search for something wholly unique, ironically provided here. It is a shock to the system in those opening lines, but thankfully it's an addictive stomping track, holding the usual tongue-in-the-cheek delivery that is always welcomed and well executed. Tracks such as "Not Ok", roll along with the acid-bluegrass that is respectfully original with lyrics that balance between humor and heartbreak;"I could break your heart with just one look".
Skateboarder turned artist Stefan Janoski lends credence to "I'm Nothing", one of the strongest and politically infused tracks on Hotel Last Resort. The first of two covers, Pyx Lax's "I'm Not Gonna Cry" sizzles, fitting in to the Femmes framework. Gordon Gano is faithfully in fine voice, crafting a surrealism into the translated lyrics. "Paris To Sleep" and "Everlasting You" take longer to warm to than the rest of the long-player. That said, "Free Ride" is a snarling, sarcastic jewel which takes a different view of political systems. The smooth adventure of Hotel Last Resort glides effortlessly across all thirteen tracks, it is remarkably a pleasant journey with very few stumbles.
Artistically the album plays out as if a hidden conceptual piece of work, delving into media, politics and a fear-stricken view of present day America. Closing out with the second cover, strangely a raw version of Irvine Berlin's "God Bless America", surprisingly works well, and is the perfect finish to an album with depth such as this. Hotel Last Resort is as strong as previous releases by the Femmes, it is a fresh breeze of authenticity which is missing at the times in the modern music spectrum. But it punches like a heavyweight, deserving of more than just one casual listen, and in a perfect world a contender for album of the year.
Track List:
01 Another Chorus
02 I Get What I Want
03 I'm Nothing [ft. Stefan Janoski]
04 Adam Was a Man
05 Not Ok
06 Hotel Last Resort [ft. Tom Verlaine]
07 Everlasting You
08 It's All Or Nothing
09 I'm Not Gonna Cry
10 This Free Ride
11 Paris to Sleep
12 Sleepin' at the Meetin'
13 God Bless America