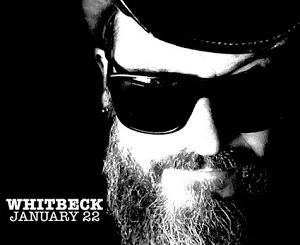 1 May 2022
Apologies in advance if this is slightly confusing, but Vancouver alt-rockers Whitbeck recently released their debut album January 22 earlier this month on April 15th. Effectively a solo project, at least on this album, for frontperson and namesake Greg Whitbeck, the band cite influences ranging from Queens of the Stone Age to Radiohead. The band also takes a lot of cues from 90s grunge, and not just the sound, but also in their socially conscious lyrics. For instance, the tormented opening track "West Coast Love Song," which one can easily imagine coming from Pearl Jam, is dedicated to the Missing and Murdered Indigenous Women and Girls of Canada.
For a sound characterized by a wall of guitars and heavy, anthemic riffs, Whitbeck's lyrics are surprisingly vulnerable and down to earth. There is an honest uncertainty to many of the songs here like "Carpe Diem Sunrise" or the title track "January 22," which contain messages of hope tempered by a melancholy pragmatism which only true life experience can inform. The lyrics may be subtle and nuanced, but the music is huge and sprawling in the best way possible. From the thundering "Just A Little" to the tremendously climactic closer "In Other Words," the band pulls no punches in every regard.
January 22 has all of the theatrics of a U2 with more grit, and for an album self-recorded (at least partly on the artist's sailboat), it is a stunningly ambitious achievement.