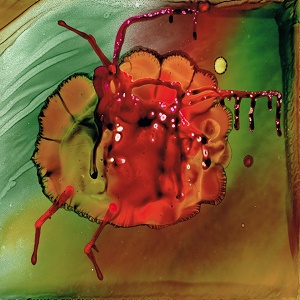 29 July 2016
On their third full-length, Long Island's A New Bug expand their scuzzy, fuzzy psychedelic onslaught for their most diverse release to date.
Nodding more to the future than the past, Patience for Apollo perfectly blends the lysergic haze of history with the digital noise of modern shoegaze. "Her Kind" opens, joining "Staring at the Wall," "Barn Party" and the first part of the title track for the group's well-established sexy Doors vibe, though "The Spring" surprisingly drives Love's folk rock into a more country vein, with "Saw You Die" adding some solid soul to the tripped out flashback. The trio of "Blue Highway," "Asylum" and "Yes It's True" effectively delivers some Blue Cheer-inspired stoner rock, but "Wave" and "Megalomania" sound more like Bloody Knives than Black Sabbath. "Go" could be Nirvana as a Nuggets band, while the title track's second part appears to stem from Muse. It's an excellent example of psychedelia that refuses to remain in any specific decade.
A New Bug have grown a lot in their time together. Thankfully, they continue to be themselves rather than pandering to genre-defining trends. Discover the true alternative and let your mind run free.
comments powered by