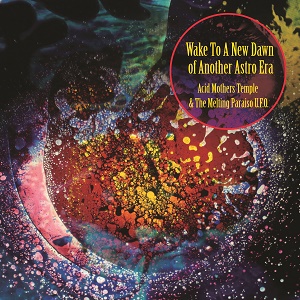 22 June 2016
Inspired by a new rhythm section, guitarist/founder Kawabata Makoto takes Acid Mothers Temple into the loudest, heaviest parts of the universe for what could possibly be their best album to date.
Wake to a New Dawn of Another Astro Era opens with the bombastic fanfare of "Force in the Third System," boldly announcing the arrival of bassist S/T and drummer Satoshima Nani with an extended psychedelic trip that floats somewhere between very early Hawkwind and John Cale & Terry Riley's Church of Anthrax, while Makoto conjures every trippy shade of psilocybin with his intensely passionate guitar solos. As the centerpiece, "Nebulous Hyper Meditation" kicks the album into hyperdrive, rising from amorphous, ambient sounds to a solid krautrock groove that now conjures Lemmy-era Hawkwind, though the constantly swirling synths and electronics recall Heldon's powerful attack. Halfway through, however, Nani and S/T fully show what they're made of by landing a perfect Stooges Funhouse funk beat, allowing Makoto's guitar to radiate starlight like some deific creator molding a nebulous galaxy. Finally, "Meridian Dimension – Lost Milky Way" crashes forth with some mind-expanding darkness, a bad-trip Black Sabbath that spins out of control and launches full-speed at the heart of the black hole, only to be swallowed in a serene ocean of psych-folk calm that returns to the early Hawkwind vibe and leaves us floating in a vacuum of pure angelic drone.
Twenty-one years into their career, Acid Mothers Temple blast forth with albums that brazenly outshine their predecessors. Grab the nearest comet tail and hold on for dear life.
comments powered by