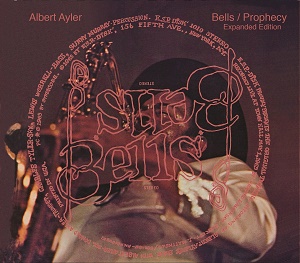 12 July 2016
Tenor saxophonist Albert Ayler was an innovator beyond his contemporaries, though his earliest known session with bassist Gary Peacock and drummer Sunny Murray most clearly defined his futuristic sonic path. Now that entire performance, recorded live June 14, 1964 and released as Prophecy (ESP, 1975), joins another of his transitional works, the May 1, 1965 recording of "Bells," with brother Donald Ayler on trumpet, alto saxophonist Charles Tyler, Lewis Worrell as bassist and Murray on drums, for a comprehensive look at two major transformations in the composer's career.
A medley of themes that would appear on later recordings, the 20-minute "Bells" introduces the bombastic marching band sound that would define Ayler until he brazenly attempted to blend his style with r&b in the late '60s. Here, he calls in the cavalry, assesses the damage, calls for backup, and ultimately declares victory. Prophecy, completes the first disc, featuring much freer versions of "Ghosts" than those that would appear on Spiritual Unity (ESP, 1965). The second disc, originally issued as Albert Smiles with Sunny (InRespect, 1996), pushes even further. Possibly a second set after the band warmed up, the tracks explode like an early Peter Brötzmann FMP recording, raw production and all.
It should be noted that, while all of this material has been previously issued, none has sounded as good as this release. Whether you're a long-time fan or just dipping your toe into the free jazz pool, you'll want to own this.
comments powered by