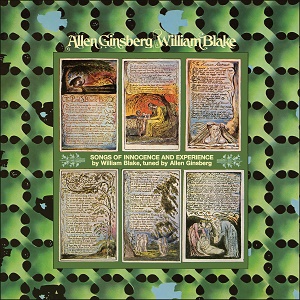 23 June 2017
Before poet Allen Ginsberg recorded the legendary sessions that would end up on last year's phenomenal The Last Word on First Blues collection, he paid tribute to his hero and inspiration William Blake by setting the master's words to music for what would be his debut non-spoken word album. For the first time, that 1970 MGM/Verve LP gets reissued on CD with an entire second disc of bonus tracks, many of which are previously unreleased.
Songs of Innocence and Experience sports an interesting cast behind the iconic voice. Jazz gods Don Cherry, Elvin Jones, Bob Dorough and Herman Wright provide the basis for the backing band alongside guitarist Jon Sholle and some lesser known names, though Ginsberg's longtime life partner Peter Orlovsky can clearly be heard as a second vocalist throughout the album. The music, of course, owes to the revolutionary beatnik albums of The Fugs and The Godz, driven by the poet's droning harmonium and playful, lilting voice, which clearly exudes his joy in delivering these poems. The second disc contains all of the 1968 demos for the album, some of which was eventually released on 1994's Holy Soul Jelly Roll box set, as well as three Buddhist mantras recorded in San Francisco during the summer of 1971 that blended psychedelia and folk music to perfection. It's Ginsberg in your living room: raw, naked and asking for another joint.
Revolution tends to be violent, but Allen Ginsberg also recognized the power of a flower in a rifle. Killing with kindness? Not really: Fists will be thrown in the long run, but the key is knowing when to pick your battles. It's a chess game so make your next move carefully if you want to win.
comments powered by