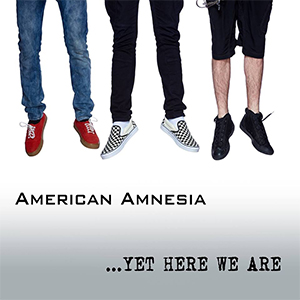 25 July 2018
Hailing from Connecticut, American Amnesia was formed in 2016 while the trio were in high school (and at least some presumably still are), and their first full-length Yet Here We Are comes only two years later with a surprising amount of artistry. Like many bands formed by members in their teens, they are naturally drawn to the blunt hard rock of names like Led Zeppelin and Alice in Chains, but American Amnesia shows both a stunning individuality and tightness for such a young group. They aren't merely content to copy their idols, and their songs have such a unique identity already that it's difficult to believe it is indeed a debut album.
From the brooding and menacing "Carillon" to the grungey pseudo-rap interlude of "Time," the album is an unrelenting force of pure energy, and the trio's excitement and belief in their music shows itself at every corner. They excel naturally at riff-heavy outings like "Richest Poor Man" with a wall of guitars that seamlessly patch up any slight awkwardness in the lyrics, and the undiluted emotion expressed on slower songs such as "All of the Ashes" is at the very least earnest in intent.
Yet Here We Are inevitably carries some of the tell-tale traces of youth, and there's nothing necessarily wrong with that, but it is undoubted that the band will continue to make great leaps forward as they mature.