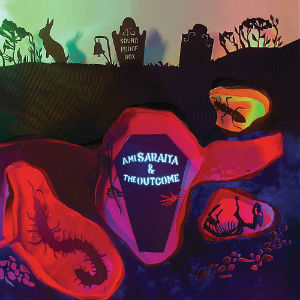 20 June 2012
In a Chicago scene full of eclectic acts, Ami Saraiya & The Outcome have managed to do the unlikely: something no one else is. With influences across the board and an interesting array of instruments, this sophomore effort from the former member of Radiant Darling defies genre-fication. The only other act that does anything resembling what The Outcome deliver here would be Amanda Palmer of Dresden Dolls fame. However, there is are very worldly influences that inform this collective that is absent from Palmer's work.
Soundproof Box starts off with "I'm Pregnant", an accordian-rich song that straddles Russian cabaret and belly dance anthem. And Barney Miller references always warm my heart. It's hard to imagine a world where a voice as beautiful as Saraiya's can exist in the same place and time as Abe Vigoda. I guess this is nature's way of keeping balance. With the title track, she takes a gruff and macabre turn with talk of torture fantasies. That tone and subject matter permeates a great deal of the record, especially the stand-out tracks. "Cattleprod Hands", for instance, picks up where "Soundproof Box" leaves off. The accordian hums to life and serves as an nineties industrial guitar riff. "Serenade," takes it all down with a wonderful self-harmonization and tremolo, delayed guitar; all within a track that goes from mariachi to something you'd expect from Beck, all seamlessly weaved together. By the time you get to the emotional ending of the album with "Glass Full Of Blue", you wonder if everything you'd heard from the previous song's narrator was acting out or a cry for help because the closer comes across as a lovely, exposed confession of sadness.
The style-hopping along with the shadow casting over the lyrics is kind of the essence of Soundproof Box. In less deft hands, it would just seem that the artist was trying to show off. "Oh, look how many styles I can put into each song". But composed by someone with the skills of Ami Saraiya, it all makes a weird kind of sense.
Check out the track, Purging