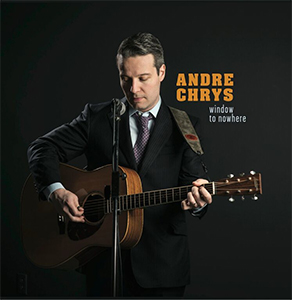 5 September 2015
Vancouver's Andre Chrys has had a long career, touring across Canada and paying his dues, and it shows visibly in the grooves and cracks of his newest album, Window To Nowhere. It's an effect that works well on Chrys, giving his voice a moody believability, and there's a warm, roots rock feel to the album, like Bruce Springsteen or a later Nick Cave; Chrys' gritty vocals especially reminiscent of the latter.
From the swamp darkness of "Get Away With It" to the quiet sensitivity of album closer "Falling Apart," Chrys presents himself as something of a weary troubadour, and it's an outfit that adheres itself easily and comfortably. There's often a bit of a fight between the cold, steeliness of Cave on songs like "The Velvet Rut," and passionate vulnerability as on "The Benefit of the Doubt," but it's a struggle that Chrys straddles effortlessly.
One of the best songs here is easily the *Neil Young*-esque "Love Don't Understand," drowned in a sea of stormy guitars and Chrys' unaffected delivery. From beginning to end, the record is one open-hearted confessional from a musician with nothing to prove, because he's proven it already. Window To Nowhere is out October 15th.