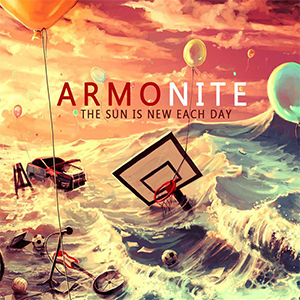 11 April 2016
Armonite is the result of classically trained Italian musicians Jacopo Bigi and Paolo Fosso, and The Sun Is New Each Day is their newest album after a hiatus of almost fifteen years. An interesting mix of electronic and prog rock, the record is mostly instrumental with the electric violin played by Bigi serving as a stand in of sorts for where the vocals would normally be. The pairing of violin with synthetic keyboard sounds creates a rare crossover of the analog and electronic worlds—a combination that rarely works as well as it does here.
Because of this experimental, yet classical approach to electronic music, the result is similar to something like Paul McCartney's 1980 solo album McCartney II, or the underrated Dazzle Ships by Orchestral Manoeuvres in the Dark. Songs like "Connect Four" and "'G' as in Gears" clearly sound like the result of someone with a deft touch who understands the mechanics of creating music, yet finds room to explore within the limitations of a specific genre.
The album was produced Muse producer Paul Reeve and the stadium dynamics of that band certainly bleed over in Armonite's sound as well. A creation almost unlike anything else being made today, The Sun Is New Each Day is an album that is wonderfully one of a kind.
comments powered by