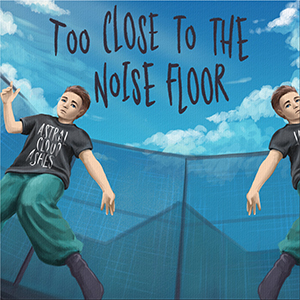 31 January 2017
Astral Cloud Ashes is the recording moniker of Antony Walker, a musician from the Island of Jersey. On his debut album, Too Close to the Noise Floor, released last year, Walker effortlessly combines the weirdness and constancy of The Pixies with the larger-than-life pop of XTC. This seemingly incongruous pairing of tastes and influences produces a sound that is impossible to pin down to a single genre, sound, or even era, and ends up creating something of an amalgam of everything at once.
Consequently, even Walker's own lyrics hang somewhere between the openly confessional and esoteric. At once it can feel like reading the most desperate of entries from one's own private journal (as on "The Man I Had to Become"), whereas others seem like a collision of random words and sentiments, producing an almost dystopian image of a society not completely dissimilar to our own ("Lites").
At times Too Close to the Noise Floor plays like a record from a musician not yet entirely sure of the direction he wants to go in—songs like the title track almost verge on a twee sensibility—but for a debut record it is also remarkably well-defined and prepackaged.
comments powered by