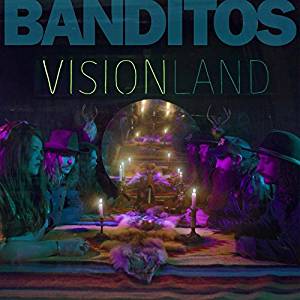 20 June 2017
www.bloodshotrecords.com
In lessor hands the Banditos sophomore effort Visionland would be a messy, schizophrenic sprawl of a record. Are they the southern-fried Stooges of the opener, "Fine Fine Day" or maybe the trippy, happy people of "Visionland"?
Yes, and more to boot.
The Banditos, from Birmingham, Alabama run a musical gamut from the slow, bluesy "Healin' Slow", which features some breathtaking vocals from Mary Beth Richardson to the country funk of "Thick N' Thin" (Think Alabama Shakes…with a banjo) and sound completely natural at it all. "Lonely Boy", a sort of fractured surf tune about the trails of the road life charms, as does the low-key but groove-infested "When It Rains". Richardson's strong voice gets a work-out on "Still and Quiet".
Produced by Israel Nash and Ted Young, and featuring the piano of Earl Poole Ball (the Nashville legend who's recorded with Gram Parsons, The Byrds and Merle Haggard, among others) on a few cuts, this record succeeds almost in spite of itself. When it ends with the Giant Sand-ish "DDT", you'll be sold. The Banditos rock to their own inner rhythms, picking influences and sounds from across both time and genres. Get on board.