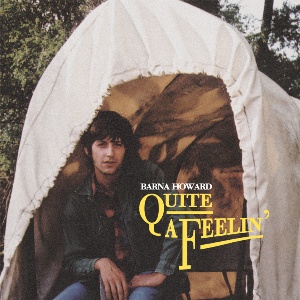 31 July 2015
It's amazing how it always comes back around to a voice and an acoustic guitar. Under the right circumstances and in the proper hands, the combo of strummed chords and lonely words being sung to no one in particular can be quite powerful. Which brings me to Barna Howard. His first LP, Barna Howard, may be one of the most compelling singer-songwriter records made this decade. Songs like "Tinker Creek" and "I'll Let You Pick a Window" made you think Howard was a long gone songwriter from a bygone era. Well, the good news is Barna is neither bygone or long gone.
Howard's newest, Quite A Feelin' feels far removed from the damp Portland basement his 2012 self titled album was recorded in. He's entered a legit studio this time round and the sheen is apparent on breezy openers "Indiana Rose" and "Bitter Side of Blue." The full band arrangements are subtle but still jarring when compared to Howard's barren debut.
Howard's initial earnest has been dialed back quite a bit as well; most apparent on the surprisingly comedic "Pull Us Back or Wind Us Up" and good timin' "Whistle Show." Howard's marked melodies and lyrics are right at home within the folksy full band arrangements of the forlorn tale "Hands Like Gloves" and the exquisitely nostalgic "Then and There." The title track "Quite A Feelin'" may be Howard's best song yet. He's successfully created a tune that sits just fine alongside Danny O'Keefe's "Good Time Charlie's Got The Blues" and Willis Alan Ramsey's "Satin Sheets."
It should be stated that what Howard is able to create on Quite A Feelin' is uniquely all his own. In a time where niche genres and artists are easily accessed and exploited, Barna Howard is a breath of fresh mountain air. If there's any justice, his acutely serene approach will one day be widely celebrated.