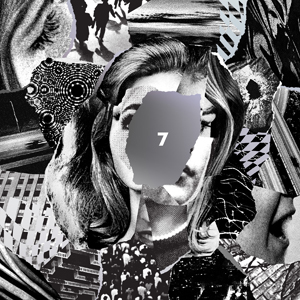 20 May 2018
No doubt you've already heard the new Beach House album, or read a review of it somewhere. It could be one of the most well-covered releases this spring, but I am giving it my full attention despite that fact. It seems that the Baltimore dream poppers have left their cult status behind with 7, and their current tour schedule is littered with sold out shows. This record is a departure in some ways, most notably their convergence with psychedelic-laced textures. While I could argue that dream pop is just another form of psychedelia, which it definitely is in my mind, the band seems to transcend simple labels and create their own unique sound. There really is no mistaking Victoria Legrand's winsome alto, or the delicate little flourishes the group employs to dress up their sound. Victoria and musical partner Alex Scally have produced a winning collection of songs on what is arguably their best album. Certainly it's the album that has resonated the most for this listener!
The trippy brilliance of "Lemon Glow" is the first leaked song I heard back in the winter. The video that accompanies this delectable slice of psych pop is equally mind-bending, and the wine dark brush of Victoria's hushed vocals and the equally entrancing keyboard lines embellish this tune perfectly.
Then there's the delightfully dreamy "Lose Your Smile", my favorite outing on this collection. It's widescreen, cinematic dream pop of the highest order, with billowing waves of acoustic guitar and keyboards in complete sync with Victoria's hazy vocals. Imagine lazing the day away on a warm summer afternoon with this as your soundtrack, and you'll drift away in total bliss.
"Dark Spring" bears a striking resemblance to Frengers era Mew, back when the Danish band was still relevant. It's the vocals that hit the hardest here, and I love that they're drawn out so wonderfully well in the mix. The buzzy synths warble along in perfect lockstep, and the guitar is just icing on the cake. Great! "Pay No Mind" is a laid back stroll of a tune, a perfect song for kicking back on the porch on a humid summer day, cold brew in hand. "L'Inconnue" (The Unknown) is another lovely exercise, closer to standard Beach House fare, while "Drunk in LA" is blissful electronica with a lonely heart at its core. "Dive" is another of the leaked singles, and it breaks no new ground, but it is divine widescreen pop. It has one of those perfect hooks that reel us all in! "Black Car" is more experimental with off kilter keyboards, slightly unsettling like a fog-shrouded set for an English mystery. "Woo" emerges like vintage 80s synth pop, and hovers about with warmth suffusing every note. It's a cozy song that wraps you up like a blanket on a cold winter's day.
"Girl of the Year" hearkens back to earlier outings, so while it breaks no new ground, you will dig it simply for its utter gorgeousness. "Last Ride" is the final stop on this fantastical musical journey, and it stretches out to 7 minutes. Never once does the band truly let down its hair and rock, which would be something to see. They are so self-contained and proper that it would be a shock to the system to witness them unleash the power they clearly have waiting in the wings. That said, the last song is another beautiful vista on this excellent record. Highly recommended!
Pick up the album over on Bandcamp and catch up with the band on Facebook.