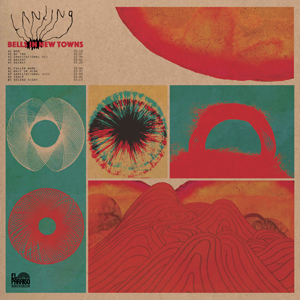 20 May 2018
Landing are one of the finest purveyors of cosmic psych I have encountered in the past few years. They are local to me (Stafford Springs, CT) and I would love to see them live, and so should you. Bells in New Towns was recorded with the help of Justin Pizzoferrato (Dinosaur Jr, Sonic Youth, Elder, MV & EE, Parquet Courts, Body/Head, Pixies, and lots more) and according to the band's web site, it 'pokes its head through the delay pedal fog and has a renewed focus on song and vocal. There are still some moments for the deep tryypr, but this record ranges from psych fuzz rock mayhem to acoustic fingerpicked whispers.' Aptly described, but fear not, the deep trippin' content is still firmly intact. Just witness the grand takeoff of opening track "Nod" with its thick bass, motorik-synths, and spiraling swirls of guitar coupled with Adrienne Snow's cooing vocals. This is hard-hitting space rock married to the pedal effects of shoegaze, and it's hammer down from start to finish. Terrific track! The song ripples into the follow-up, the pastoral psych folk of the luminous "By Two". With Adrienne's hushed vocals, it is a balm to the senses. Smooth waves of sound cocoon your ears as you travel through its serene length. The instrumental "Gravitational VII" shoots you straight into orbit and its chiming sonic pulsations remind me of Flying Saucer Attack. "Bright" borders on Kraut rock and once again assembles some motorik rhythms for your listening pleasure, coupled with some trippy vocal lines.
"Secret" has filigreed edges that caress jangling nerve endings and its instrumental core is gorgeous, cleanly rendered psych that floats through and grabs your attention as it unwinds. It percolates up a bit when Adrienne starts singing and transforms into beautifully hallucinogenic psych gaze. "Fallen Name" is fairly straightforward by comparison but is lovely in execution, with some beautifully paired vocals and shimmering guitar. "Wait or Hide" jacks up the energy, and its wall of shining, blissful drones is musical manna. I like how the haziness of the sonic backdrop never overshadows the vocal parts. Nice! "Gravitational VIII" is another instrumental interlude with clear lineage tracing back to FSA. "Trace" is beautiful folk rock, a song which became an instant favorite of mine the first time I ran through this record. It hovers on the dreamy, sonic landscapes of the stellar Beautify Junkyards. Lovely! The sonic bliss of "Second Sight" is the perfect coda to this engaging and enchanting release. It employs all the elements that make this band so great, and its contemplative feel perfectly suits my mood on this gloomy spring day as the sun occasionally shoots through the clouds. A terrific new release from this long running CT psych collective Highly recommended!
Catch up with the band over on Facebook and pick up the album on
Bandcamp.