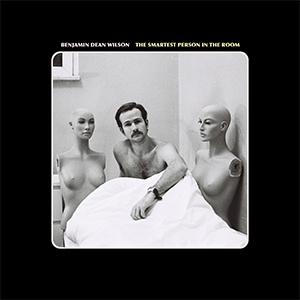 14 May 2018
Indie-folk artist Benjamin Dean Wilson is back with his second album, The Smartest Person in the Room. A rousing, inspired follow up to his 2016 debut, Small Talk, it follows closely in its footsteps with similarly long and sprawling, narrative-driven ballads. It makes sense that an artist who got his start in the film industry would produce music which is this cinematic, and each song is in a way its own vignette—its own little short film. Wilson's singsong delivery adds to the storytelling feeling, and his voice is something of a cross between Ray Davies, Leonard Cohen, and Nick Cave.
Whereas most musicians tend to use longer songs as an excuse to indulge in their own egos, Wilson is at his best when he's given room to stretch his legs. His askew sense of humor shines through fantastically on "Mr. Paranoid, Lizzy, and Her Family," and "Vitamin Supplements," offsetting it with a flair for the dramatic. He rarely lets his guard down, but he does open up in his own unique way on the title track, "The Smartest Person in the Room." It's not what one would call tender, but it proves there is a real human behind the mask of cynicism.
The Smartest Person in the Room is an album that should be paid attention to closely, for it's full of jokes, wisdom, and surprising moments of heart which can fly by unnoticed.