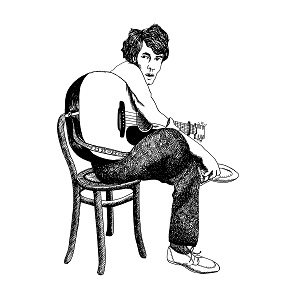 11 June 2015
Bert Jansch is a heavyweight in the world of English folk music. He brought rise to the Folk Baroque stylings first introduced by Davey Graham and Martin Carthy in the early 60's on his work with Pentangle and through his illustrious solo career. He paved the way for folks like John Martyn, Jimmy Page, and even newcomers like Ryley Walker.
In 1996, an authorized recording of Jansch's 1995 performance at legendary The 12 Bar in London was released by Jansch himself and distributed by Cooking Vinyl. Now celebrating it's 20th anniversary, Live at the 12 Bar is back in print thanks to Earth Recordings; it is the first in what will be an extensive reissue campaign of Jansch's catalogue.
The record finds Jansch in fine form both in his playing and in his mood. It's a good natured and relaxed jaunt through his storied discography. The bluesy "Come Back Baby" and "Strolling Down The Highway" show off Jansch's love for Brownie McGhee and Big Bill Broonzy. "Blackwaterside" is a BIG highlight. A Jansch staple and even a one time almost lawsuit for Led Zeppelin's Jimmy Page (who stole the tune outright for his own "Black Mountain Side") that burns bright and true.
"Fresh as a Sweet Sunday Morning" from '74's influential LA Turnaround, is another killer performance on this spectacular album. Jansch really digs in vocally and the guitar is ruggedly splendid. "The Lily of the West" and "Just A Dream" bring more good nature and some American folk influence to the setlist.
Newcomers to and admirers of Jansch will be elated with Live at the 12 Bar. It's a benevolent document of the man and the tremendous powers he possessed, even later in his career.