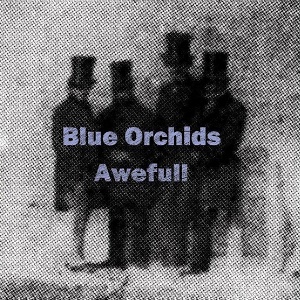 3 June 2016
In 1979, Martin Bramah finally tired of Mark E. Smith's antics and left The Fall to form his own band. He recruited keyboardist Una Baines and guitarist Rick Goldstraw (aka Eric McGann), both Fall graduates, as well as bassist Steve Toyne and drummer Ian Rogers for a new band called Blue Orchids. This essential collection of early non-LP and rare tracks documents the group during their first two years when they easily rivaled Smith and company for the role of mayors of Manchester.
Awefull opens with "The Flood," a sneering, yet passionate, keyboard-driven garage attack akin to The Seeds and ? and the Mysterians with the rough edges of The Damned. "Disney Boys," the haunting psychedelic punk flipside, follows, leading to "Work," a wide-eyed spy movie rave-up championed by late BBC DJ knight John Peel. The b-side, "The House That Faded Out," could be considered the closest Blue Orchids got to The Fall. A demo for "The Unknown" sounds like a prog Joy Division before switching to the "Agents of Change" EP, where the roughness becomes more refined, leading to a darker death rock sound. A demo for the 1985 single "Sleepy Town" pairs a Specials backdrop with Frank Sinatra vocals for the coup de grâce.
Blue Orchids, like The Fall, would continue through numerous lineup changes, backing Nico and even a modern resurgence that sees them releasing their first full-length in a dozen years. This is where they began, though, creeping in the shadowy corners of jagged post-punk.