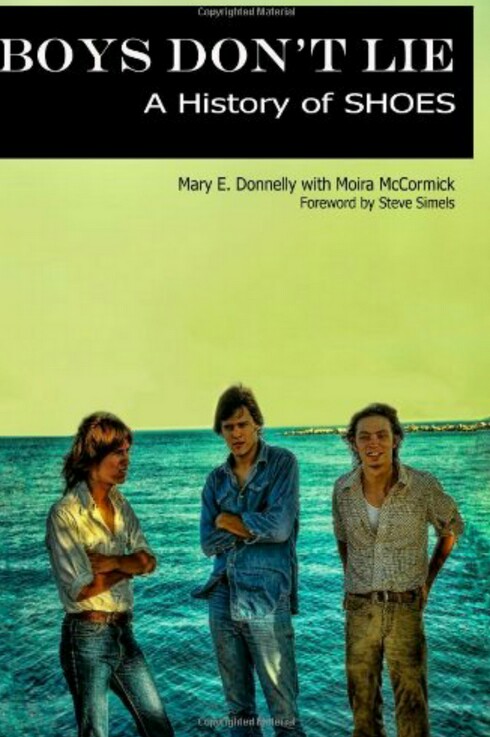 18 June 2014
Professor Mary Donnelly penned this "tome" (her words) of a band biography over a span of four years. Countless hours of research later, you have this marvelously detailed and meticulously researched story of the little band that could from Zion, Illinois. Shoes were recording at home when lavish studio budgets were the norm, not bedroom studios. Over the course of almost 40 years, they've enjoyed a brush with fame, a stint on Electra Records, an odd association with Gene Simmons (yes, that Gene Simmons), MTV regular play, college radio, and a triumphant return in 2012 with Ignition.
All during this time, they were lauded by music critic luminaries such as Ira Robbins, Robert Christgau, and Greil Marcus, and have enjoyed an unwavering cult following that has lasted to this day. How does a band survive through all this time with little or no label support and only their own determination to go on?
There is raw talent, which John Murphy and Jeff Murphy and their friend Gary Klebe have in spades. All three guys write, sing, and play instruments, and all three have been represented through the years on their many recordings. The guys also are rather competitive, and if one brings in songs up front, the others are spurred into action to produce their own songs. And when someone like Gary pens a song, Jeff will usually contribute a solo, and vice versa. John also manages to slide in compositions at the end, all while juggling a full time job.
Donnelly chronicles the highs and lows Shoes have encountered, and also parallels this with the rise and fall of the music industry, and the many changes in production, format, and distribution that have taken place since the 1980s. Shoes have rolled with the changes, even at their most financially stressed times, and they graduated from a basement to a proper building they owned outright for a time where they ran their mail order business (Black Vinyl Records) and a studio called Short Order Recorder. these activities left them little time to focus on their own work. The Internet seems to have given their careers a new lease on life, and they now record in Gary Klebe's home studio.
There is so much more to the story than I've mentioned here, but it's an interesting read on different levels. It shows how Shoes have come full circle from primitive recording techniques (by today's standards) to state-of-the-art production, once again recorded at home, and also how they've maintained a solid fan base, despite not playing out much. And then there's the always engaging story of the record industry, which is still in free fall if store closures and declining CD sales are any indication.Boys Don't Lie is a must read for all power pop and Shoes fans. Kudos to Mary Donnelly and Moira McCormick for an entertaining read.
comments powered by