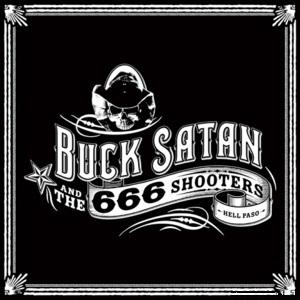 17 January 2012
What began as a scary good one-off on 1997's Bridge School Concerts (the very unindustrial cover of The Grateful Dead's "Friend Of The Devil,") comp has been made a full-length effort. Buck Satan is the latest alter ego of Ministry frontman and legend Al/Alain/Alien Jourgensen. Bikers Welcome! kicks off with "Quicker Than Liquor", which is a pretty straight forward country bar band track aside from the drum machine. Jourgensen's voice is restrained. It doesn't last.
"What's Wrong With Me?" contains no pretense of the Buck Satan pseudonym as it is clearly Jourgensen's patented scream minus the heavy electronic manipulation. "Medication Nation," is more of the same anthemic goodness. The album then takes a bad fork in the road that lead to country cliché. "Cheap Wine, Cheap Ramen," at least attempts to update the old hard luck story, this one of an artist that's been screwed by their record company. The refrain of "Cheap wine/Cheap ramen/That's all I got comin'" is pretty damned entertaining.
"Down The Drain," is maybe the best ode to drunkenness not sung by an Irish band. Fast guitar play has always been a prerequisite in Ministry but axeman Mike Scaccia does the unthinkable and makes his guitar mimic a blistering fiddle solo on "Sleepless Nights And Bar Room Fights,". The aforementioned "Friend Of The Devil," gets a studio revamp that is at least twice as fast as the Bridge version and that's a bit to its detriment. And the award for song least likely to be covered by Vince Gill or some other benign country artist goes to "I Hate Every Bone In Your Body Except Mine,".
Even after Uncle Al's descent from Chicago to Texas, this is still something I didn't think would ever see the light of day. Al's lack of southern twang and the industrial elements that peek out keep this album a fun listen. Johnny Cash, it isn't. It also isn't some pop shlock. Bikers Welcome! Ladies Drink Free is a new, different outlet for an unrelenting artist.