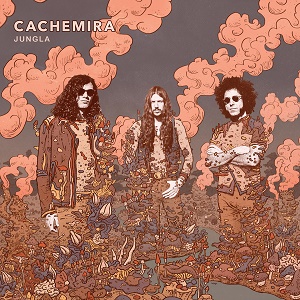 12 May 2017
Barcelona, Spain's Cachemira explode with a stoner-friendly debut straight out of the Summer of Love.
Jungla embraces psychedelia with the acid-tinged exuberance of late-'60s Bay Area subculture. Gaston Lainé's guitar recalls John Cipollina's work with Quicksilver Messenger Service, as well as Big Brother and the Holding Company's Sam Andrew and James Gurley, spurred on by the rhythm section of bassist Pol Ventura and drummer Alejandro Carmona, whose primal beats conjure Blue Cheer's ferocity. Over five songs, the trio ranges from Jefferson Airplane weirdness to Kak intensity, allowing, of course, for the European tradition to fade in with nods to Roland Kovac and Sam Gopal. Put it together and what have you got? Bibbidi-Bobbidi-BOOM!!!
The era of Cachemira has just begun, so light a match and blow the smoke from whatever that is dangling in your mouth out into the cosmos where the Akashic records will make them available to all, man.
comments powered by