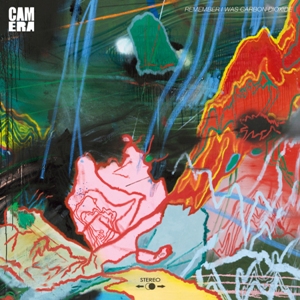 19 August 2014
I first heard Camera in 2012 with the release of their notable debut Radiate!. Songs like "E-Go" and "Utopia Is" hit hard with some peak zone motorik that gave nods to both Neu! and Cluster evenly. Camera was mentioned again in an interview conducted with krautrock pioneer Michael Rother in 2013. Rother was to perform some of his legendary works by Neu! and Harmonia with the band.
Camera came back into consciousness a third time after a mentor recently dropped their newest Remember I was Carbon Dioxide off thinking their traditional approach to krautrock and motorik would be something I'd be into. He was very right.
Like an old friend, Camera picked up right where we last left with some flooring motorik. The opener "From The Outside," uses understated electric guitar and swirling synth to phrase and then rephrase freeform melodies while the drums steadily hold everything in it's right place.
"Synchron" thrives as well, proving to be the album's best statement. The track weaves ostensibly simple synth melodies and guitar wahs over and under its everlasting apache beat.
Though the ad hoc guitar on "Parhelion" feels forced and the spoken word of "2AM" breaks little ground, the drums of Camera drive the record as a whole and prove to the band's strongest asset. Even thru it's darker and more experimental moments, in which there are many on Remember I was Carbon Dioxide, the group continue to have a conscious point of view that allows for both impulse and heritage to play a part.
Though simple in it's initial design, the genre of krautrock and the motorik beat continues to have resonance, helping those who listen to understand both the eternal banality of adulthood and the boundless hope/joy/satisfaction the small spaces in life can provide.
comments powered by