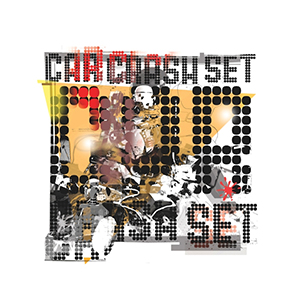 6 November 2014
Anna Logue Records is one of the premier indie labels out there today digging up and reissuing obscure electronic music primarily from the 80's. There are a handful of others with a similar idea, but few are as consistent and constantly surprising as this German label. 2014 has found them as strong as ever, and among their newest releases they have finally reissued Join The Car Crash Set, a fantastic compilation of lost Synthpop classics from New Zealand's Car Crash Set. You heard right, a Synthpop band from New Zealand.
One of the few electronic acts found on the island during the 80's, Car Crash Set went virtually unrecognized during their brief lifespan, but one listen to this compilation will have you racking your brains trying to figure out why on earth this band didn't have the commercial success like some of their counterparts in the UK and Germany.
Sounding like the perfect hybrid of early, experimental Human League and their later poppier, music à la Dare! (vocalist Nigel Russell is a dead ringer for Philip Oakey), Car Crash Set deliver an icy and sequenced, yet emotional brand of Synthpop. While many of the songs here are in fact purely electronic, the band also occasionally ventures into *New Order*-esque amalgamations of guitars and synths.
One of these attempts showcased here, a demo of "Another Day" (arguably even better than the slicker version found on their sole album, No Accident) is so successful in its sucker punch delivery of mawkish detachment, you just might find it difficult to keep the tears from welling up. Another song, "Toys," originally released on Propeller Record's 1983 comp We'll Do Our Best, should easily be ranked among the best broken-hearted post-punk, alongside classics like "Love Will Tear Us Apart."
Join The Car Crash Set is a beautiful, loving glimpse of a band finally garnering the acknowledgement it deserves, handled with extreme care and detail, and is now available again from Anna Logue on beautiful 180 gram clear vinyl and CD as well, both in extremely limited editions.