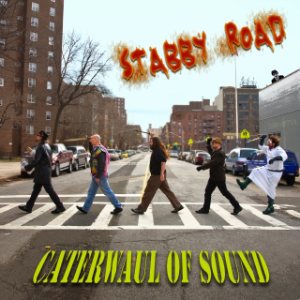 5 June 2011
Here's an album to fuck with your head.
Beholden to no particular strain of punk, noise or rawk, NYC's Caterwaul of Sound recall the sort of band former Dead Kennedy Jello Biafra would've signed to his Alternative Tentacles label back in the late eighties. We're recalling an era of bands like The False Prophets, Alice Donut and semi-related artists like Mykel's Board's Artless or even rock critic Charles M. Young's band Iron Prostate. An era when misfit-types who'd been spurred to action by the early eighties American hardcore scene then re-discovered past crazies from Frank Zappa to The Fugs to The MC5 and a million more musical headcases.
On 2011's "Stabby Road", C.O.S's gleefully tasteless lyrics about juvenile abortion, boobs n 'butts not to mention fecal precipitation are driven into yer skull by strangulated vocals, stabbing bass lines, skronky guitar and pounding drum patterns that pulverizes everything into a punk pulp. And they make sure to keep fuckin' up the flow by throwing you curve-balls like the horn section on the catchy "Celebrity Skin" and quasi-gospel backing choir on Sex-Pistol packin' "Sweet 16 Abortion".
The band stuffs songs ranging from "The Jeffersons Theme" to "Be My Baby" and even children's favourite "Old McDonald" through their musical meat grinder; the delightfully gruesome results of which only manages to make originals, like the hilarious "Part of the Problem", seem more depraved and sick.
Ladies and gentleman, the head-fuck you ordered has arrived…
Caterwaul of Sound – "Love Theme to Kids Get Dead" from Darkstar Entertainment on Vimeo.