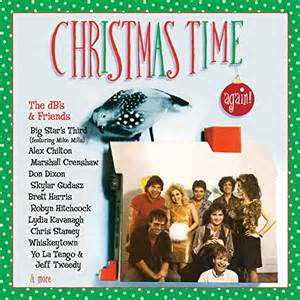 6 December 2015
http://omnivorerecordings.com
Who says holiday music is only gas-station giveaway albums, syrupy Starbucks comps or moldy Andy Williams classics? Not The dB's! This sparkling collection features 22 cuts of seasonal song from everyone cool such as Marshall Crenshaw's "(It's Going to Be a) Lonely Christmas" to Robyn Hitchcock with "The Day Before Boxing Day" and more. The genesis of this record came about when Chris Stamey and the dB's wrote "Christmas Time" in the 1980s, and it grew from there. The dB's have 4 selections here, ranging from Peter Holsapple's "Holiday Spirit" and ""Home for the Holidays" to Stamey's Christmas Time" and a festive cover of Jose Feliciano's "Feliz Navidad", done Carolina indie style.
Other highlights include a pair of Ted Lyon's songs- "Santa's Moonlight Sleighride" and "The Only Law That Santa Claus Understood", a subdued, but great "The Christmas Song" from Alex Chilton and raucous live "Eight Day Weekend" from Yo La Tengo and Jeff Tweedy. It's not all strictly Christmas music however, songs of season abound such as "House on the Hill" from Whiskeytown and a tender version "Jesus Christ" from Big Star's Third featuring Mike Mills.
An interesting and eclectic compilation, the dB's have given music fans a new platter to spin while drinking the spiked Egg Nog and wrapping gifts. Happy holidays, all!